Bali Group Organizer brings you the fun of Bali ATV Ride Treasure Hunt Team Building. Our company has been confirmed as a reliable event organizer in Bali for over 25 years, creating fantastic occasions. This is a popular team-building activity on the island, combining the thrill of ATV riding with the excitement of treasure hunting. The expedition will immerse participants in the incredible experiences and challenges of ATV riding. It is a unique vehicle with a special engine that allows you to explore the muddy land, rice paddies, and jungle with cocoa plantations.
Unleash Adventure: Bali ATV Ride Treasure Hunt Games
Bali ATV Ride Treasure Hunt Game is a fantastic way to complete your group's offsite agenda on Bali Island. As your reliable event planner, Bali Group Organizer will handle group games and immerse the participants in fascinating experiences.
Our creative teams have created an appealing selection of games that can be adjusted based on our clients' themes or demands. Each game is thoughtfully built with the fundamentals of fun, challenges, safety, and excitement in mind. It attempts to inspire the group to participate in competitions.
Moreover, it will benefit the participants and the company/organization by fostering strong cooperation, leadership, improved communication skills, favourable working conditions, and more.
Our experience and dedication have made us a top choice for team-building events in Bali. Clients trust us to provide unique, creative activities that align perfectly with their Bali agendas.
The Adventure Unveiled
Bali ATV Ride Treasure Hunt Team Building promises:
ATV Adventure: Prepare for an exhilarating ATV adventure that takes you through scenic rice fields, muddy tracks, remote villages, and lush tropical forests. The diverse terrain offers an adrenaline-pumping ride for participants of all levels.
Treasure Hunt Challenge: Each participant is tasked with hunting for hidden treasures scattered along the ATV track. This engaging challenge encourages teamwork, problem-solving, and strategy.
Team Bonding: This adventure fosters team unity and communication as participants work together to decipher clues, overcome obstacles, and complete the treasure hunt. It's an ideal activity for corporate teams, friends, and groups looking to strengthen their bonds.
What to expect?
Fun and Thrills: Prepare for an action-packed adventure filled with excitement, laughter, and unforgettable moments.
Team Achievement: Experience the satisfaction of completing the treasure hunt as a team, forging lasting memories.
Connection with Nature: Immerse yourself in Bali's natural beauty, from serene rice terraces to dense tropical forests, as you navigate the ATV tracks.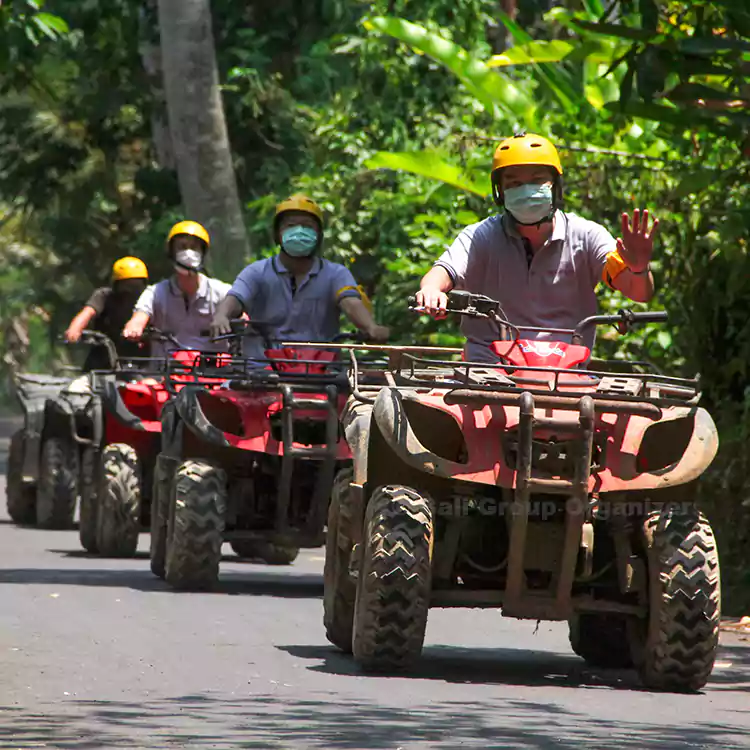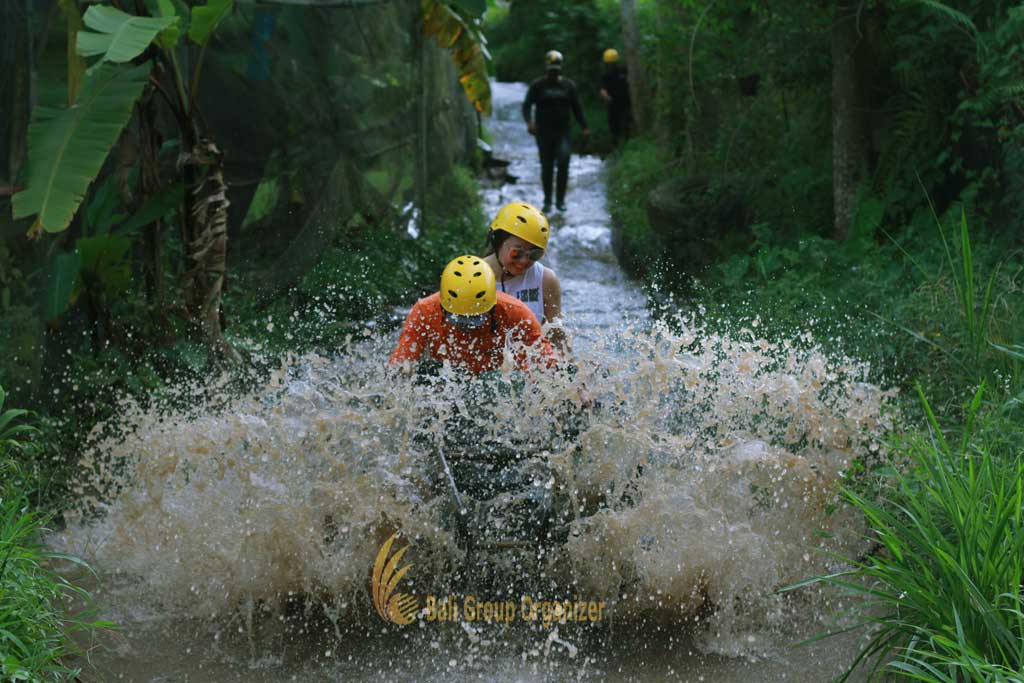 Total number of participants: 25 people (minimum) for one trip

Total of games: 6 - 7 games

Duration of games: 3 - 4 hours

Venue: On Request

Time: Morning or Afternoon
Safety and Health Considerations
Safety is paramount during our Bali ATV Ride Treasure Hunt Team Building:
Safety Equipment: We provide all participants with top-notch safety equipment, including well-maintained ATVs, helmets, and safety briefings to ensure a secure and enjoyable ride.
Health Precautions: While this adventure suits various fitness levels, participants should consider their health and physical condition before embarking on the journey.
What to Bring: To make the most of the experience, we recommend bringing comfortable clothing, sunscreen, closed-toe shoes, and a sense of adventure.
Phase – 1: GROUPING

Group Assembling
Ice Breaking with 2 – 3 games
Grouping and leader appointing, including yell–yell

Phase - 2: GARDEN EXCLUSIVE GAMES

Phase – 3: TREASURE HUNT GAMES

Post 1 ( Exclusive games)
Post 2 ( Exclusive games)

BREAK TIME

Phase – 4: TREASURE HUNT GAMES

Post 3 ( Exclusive games)
Post 4 ( Exclusive games)

Phase – 5: CLOSING GAMES
Phase – 6: EVALUATION

Evaluation session and announce the winner

LUNCH TIME

Back to hotel