Welcome to the savoury world of the Bali Cooking Competition, a popular team-building activity in Bali. It offers an exciting touch to your holiday experience. This fun activity requires participants to create dishes using recipes provided by our game master. It can be done anywhere and suited to your needs. It is also appropriate for various organizations, including students interested in culinary education.
Bali Cooking Competition: Unleash Your Inner Chef
Bali Cooking Competitions are a fantastic group activity for group travellers who want to learn about the cuisine and participate in creating beautiful and tasty food presentations. This competition presents enormous challenges for each competitor regarding understanding local food ingredients, learning by doing the food preparation process and delivering a beautiful set.
The Culinary Challenge
The Bali Cooking Competition participants will be tested as they follow recipes, apply their culinary abilities, and collaborate to make delectable dishes. This activity promotes teamwork, communication, and creativity, making it excellent for corporate groups, friends, and students.
Tailored to Your Needs
We recognize that each group is unique, so we provide flexibility in organizing your Bali Cooking Competition. We can meet your needs and tastes, whether you choose a beachfront setup, a traditional Balinese kitchen, or any other place.
Safety, Health, and Preparedness
We stress safety and encourage attendees to dress appropriately in the event location. Guests should also think about their health and dietary needs. We will prepare all cooking equipment to make this activity more comfortable. Our team-building package includes complete kitchen equipment, an apron, spices, recipes, a sound system, and refreshments.
What to Expect during Bali Cooking Competition?
Prepare for an exciting culinary journey that combines teamwork, creativity, and a delightful gastronomic experience. When you join the Bali Cooking Competition, here's what you can look forward to:
Team Collaboration:
Participants will be divided into teams, encouraging collaboration and communication. Working together to prepare and present dishes fosters a sense of unity and camaraderie among team members.
Culinary Challenges:
Prepare to tackle culinary challenges that will test your cooking skills and creativity. Our game master will provide recipes and instructions, but it's up to your team to execute them flawlessly.
Discover Balinese Cuisine:
Immerse yourself in the rich and diverse flavours of Balinese cuisine. You'll have the opportunity to work with local ingredients, spices, and cooking techniques, giving you a taste of Bali's culinary heritage.
Friendly Competition:
While focusing on teamwork, a friendly competition element adds excitement to the event. Teams will present their dishes, and a panel of judges or fellow participants can evaluate their taste, presentation, and creativity.
Culinary Learning:
Whether you're a seasoned chef or a novice in the kitchen, the Bali Cooking Competition offers a unique learning experience. Gain insights into Balinese cooking methods and techniques you can take home.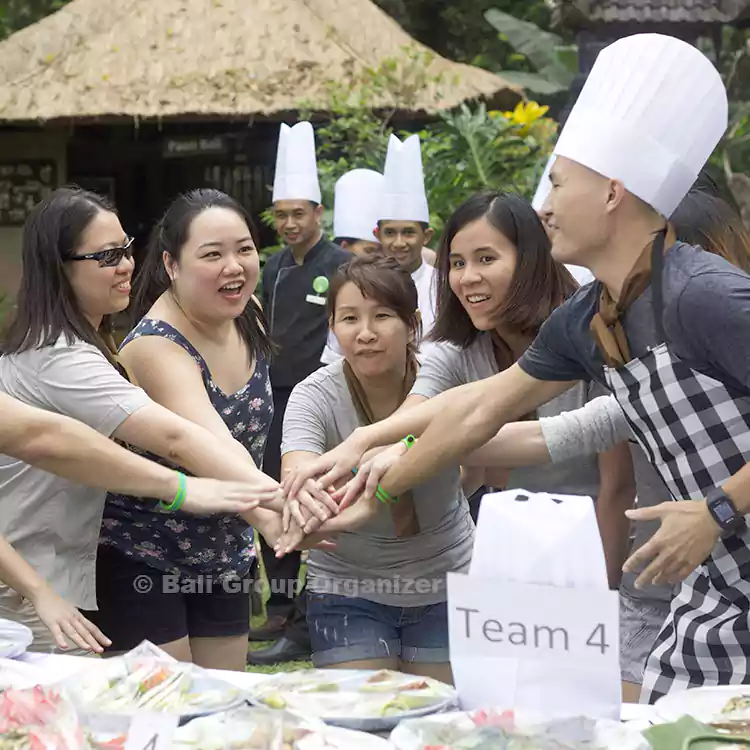 Total number of participants: 15 people (minimum)

Duration: 3 - 3,5 hours

Venue: Flexible

Time: Morning or Afternoon
Phase – 1: GROUPING

Group Assembling
Ice Breaking with 2 – 3 games
Grouping and leader appointing, including yell–yell

Phase - 2: INGREDIENTS HUNTING

Searching the ingredients into the traditional market or other appointed venues

BREAK TIME

Phase – 3: APPETIZER PRODUCTION

Cooking process
Food Presentation

Phase – 4: MAIN COURSE PRODUCTION

Cooking process
Food Presentation

Phase – 5 : DESSERT PRODUCTION

Cooking process
Food Presentation

Phase – 5: EVALUATION

Evaluation session and announce the winner