Welcome to Bali Garden Team Building, where Bali's lush greenery serves as a canvas for team bonding, adventure, and growth. Bali Group Organizer has over 25 years of event management experience and specializes in creating immersive team-building experiences amidst Bali's stunning gardens. Our Bali Garden Team Building activities promote teamwork, creativity, and friendship while set against the natural beauty of Bali.
Embrace the Bali Garden Team Building Experience
Where Nature and Teamwork Flourish
Bali's gardens are a perfect backdrop for encouraging team collaboration and synergy. Our Bali Garden Team Building activities combine the thrill of outdoor challenges with the art of team bonding. It will take you to engage in interactive games, problem-solving exercises, and creative activities. These are intended to improve group members' communication, leadership, and teamwork.
The Versatility of Garden Locations
One of the most appealing aspects of Bali Garden Team Building is its adaptability. This unique team-building exercise can be organized in various garden settings, including exquisite resort gardens, serene botanical gardens, and even private villa compounds. The critical requirement is a spacious garden area to accommodate all activities. Rest assured, the Bali Group Organizer handles all the necessary permissions and arrangements, ensuring a seamless and enjoyable experience.
Safety, Health, and Preparedness
Ensuring safety is paramount throughout our Bali Garden Team Building activities. We meticulously conduct thorough safety assessments, enlist experienced facilitators, and guarantee all participants have the necessary safety gear. Furthermore, we place significant emphasis on the well-being of our participants. Meanwhile, we will serve refreshments to avoid the effects of dehydration.
What to Expect?
During your Bali Beach Team Building experience, your team will:
Engage in Fun Games: Participate in exciting beach games and challenges to build trust, communication, and problem-solving skills.
Promote Creativity: Encourage creative thinking through team-building exercises that require innovation and adaptability.
Strengthen Bonds: Foster stronger connections among team members as they collaborate, support, and motivate each other.
Enhance Leadership: Identify emerging leaders within your team and develop their leadership skills.
Achieve Common Goals: Work together to achieve shared objectives, mirroring the dynamics of your workplace.
Total number of participants: 25 people (minimum)

Total of games: 6 - 7 games

Duration of games: 2,5 - 3 hours

Venue: Garden

Time: Morning or Afternoon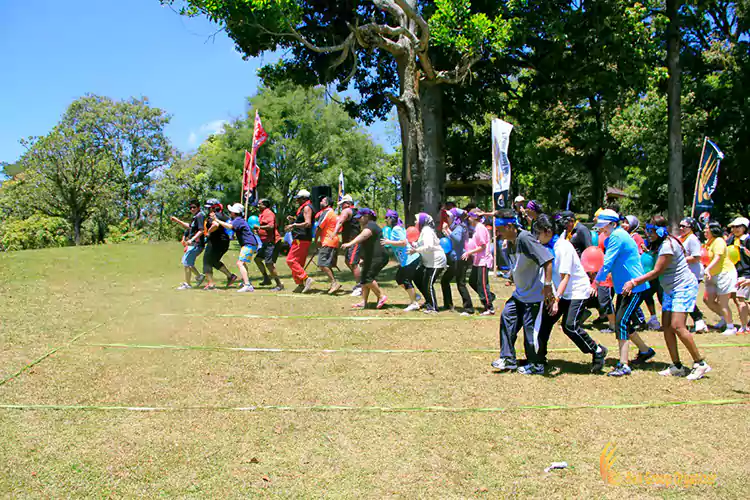 Phase – 1: GROUPING

Group Assembling
Ice Breaking with 2 – 3 games
Grouping and leader appointing, including yell–yell

Phase - 2: COMPETITION GAMES

Race Game 1
Race Game 2
The Race Game 3
The Race Game 4

BREAK TIME

Phase – 3: OLYMPIC GAMES

Olympic Game 1
Olympic Game 2
The Olympic Games 3

Phase – 4: CLOSING GAMES
Phase – 5: EVALUATION

Evaluation session and announce the winner