Bali Raft Team Building is a unique team-building activity that challenges participants to survive in nature. The game is ideal for those of you seeking a team-building activity different from what you have done before. Furthermore, this team building will present multiple challenges in developing strong teamwork, boosting the survival spirit, and much more. Meanwhile, Bali Group Organizer is a top event organizer with over 25 years of experience in Bali. You're on the correct route with us to make great memories with your group.
Bali Raft Team Building: Navigating Challenges, Strengthening Teams
Bali Raft Team Building is a testament to our creative team's innovative team-building activities. Its goal was to give outdoor group activities amid Bali's natural beauty. This unique activity takes on participants with various challenges, most centred on survival skills and teamwork. The adventure takes place along Bali's gorgeous coastlines and calm lakes.
However, due to the natural conditions required to make it a memorable experience, only some beaches or lakes are an appropriate event setting. Bali Group Organizer is your trusted partner for this thrilling group event, with over 25 years of event organization experience.
Bali Raft Team Building provides an exceptional opportunity to improve your team while immersing yourself in the natural beauty of Bali. With Bali Group Organizer, you can be confident that your adventure will be well-planned and safe. Book your Bali Raft Team Building activity today and embark on an unforgettable tour across the delights of this stunning island.
Expert Facilitator: Our experienced guides are trained in first aid and equipped to handle emergencies.

Safety Gear: Participants receive life jackets and helmets, with clear instructions on proper use.

Equipment Checks: Rigorous equipment inspections are performed before each event.

Weather Monitoring: We assess weather conditions to make safe decisions and adapt if necessary.

Clear Briefings: Participants receive clear instructions and safety briefings.

Continuous Supervision: Our instructors provide ongoing supervision and support.

Sun Protection: We recommend sun protection measures for Bali's tropical climate.

Health and Hygiene: We maintain strict hygiene standards and equipment sanitation.

Preparedness: Our team is prepared to respond to any unexpected situations.
Total number of participants: 30 people (minimum)

Total of games: 6 - 7 games

Duration of games: 2,5 - 3 hours

Venue: Flexible on Beach or Lake

Time: Morning or Afternoon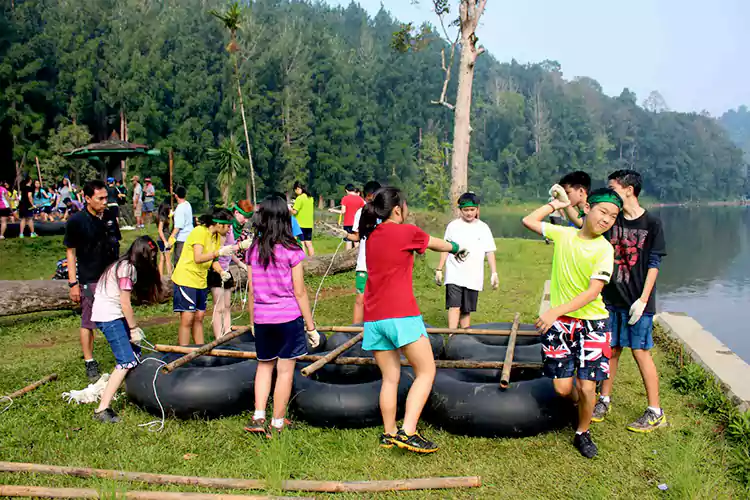 Phase – 1: GROUPING

Group Assembling
Ice Breaking with 2 – 3 games
Grouping and leader appointing, including yell–yell

Phase - 2: COMPETITION GAMES

Game 1 (Exclusive Game)
Game 2 (Exclusive Game)
Game 3 (Exclusive Game)
Game 4 (Exclusive Game)

BREAK TIME

Phase – 3: WATER COMPETITION GAMES

Game 1 (Exclusive Game)
Game 2 (Exclusive Game)
Game 3 (Exclusive Game)

Phase – 4: CLOSING GAMES
Phase – 5: EVALUATION

Evaluation session and announce the winner

Taking shower and change the clothes

Back to hotel