Bali Transportation Services arranged by Bali Group Organizer are well selected with new brand vehicles includes vans and buses to keep all our clients comfortable and enjoyable during their trips in Bali. Bali Group Organizer as one of reliable event organizers in Bali provides complete event services including transportation for your own group vacations either business trips. We provide good quality transportation and comfortable with fully air-conditioning, licensed and save driver. In some cases of big events, we have also worked with our reliable other transportation companies to support our event successfully and all the vehicles are qualified to Bali Group Organizer standard services.
Bali Transportation Cars and Buses
Bali Island is a small beautiful island with limited space of roads and having high traffic especially in town that force the use of vehicles are limited to facilitate us crossing the street to achieve the destination on time. The ideal of vehicles used in Bali currently are the small vehicles until the maximum of seat capacity into 45 seats and therefore Bali Group Organizer always arranges the vehicles for every our customer with comfortable air-conditioning, seat capacity, elegant exterior and interior, latest production, complete licenses, pass the feasibility test and save driver.
Suzuki APV
Suzuki APV is a MUV (Multiple Utility Vehicle) commonly used for tourist transportation in Bali accommodating 6 passengers including driver. If your trips will be accompanied by tour guide, it will be suitable for 4 adults. There is a luggage space available behind of the back seat to put your small luggage.
Toyota INNOVA
It is a comfortable MUV made by Toyota cooperation Japan with 6 passenger including driver and 4 guests if you trip accompanied by tour guide. Driver and tour guide will seat in the front where a small luggage store available in the back side.
Toyota Alphard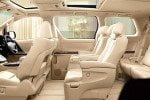 Toyota Alphard is a luxury MUV made by Toyota Japan Cooperation with 6 passengers including driver or ideally for 4 passenger plus driver and tour guide. The interior is luxury designed with full air-conditioning and soft suspension that will keep the passenger comfortable.
Toyota HIACE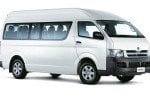 Toyota HIACE is a semi van accommodating 14 passengers including driver and tour guide. It is ideally for 12 passengers with one driver and one tour guide. It is a comfortable MUV made by Toyota Japan Corporation  with good suspension with small luggage store in back side.
Izusu Elf
It is a customize build vehicle to fulfill the MUV demand that able to be modified from 12 seats until 18 seats. This car is a big medium or can be said a small bus to accommodate small group where usually able to accommodate 12 passengers. The other bigger car can accommodate 18 people.
Buses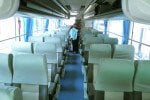 We provided several buses seat type from 21 seats until 45 seats those are all designed comfortable with full air-conditioning with luggage spaces located in right/left side even in the back side depended on bus type. The interiors are elegantly designed with single seat for each passenger. The audio including microphone are available for tour leader or guide speech.
Another Services
Bali event organizer Services and Products
Student Trip and CSR program, instead of Bali transportation