Oentoeng Suria Group Experience on Bali Beach Team Building
Oentoeng Suria is a company in Indonesia took beach team-building experience. The company with 36 staff coming to Bali for incentive trips. Furthermore, they have appointed Bali Group Organizer as one of the event planners in Bali to organize beach team building activities. This activity took place on September 19, 2018, on Kuta Beach. Meanwhile, they really enjoyed the team building activities that were held in the afternoon. Besides that, this beach team building activity has provided many lessons for them to build a solid and strong team. Also, their cohesiveness and togetherness in a team is the key to success in achieving their goals. So, this activity is the right choice for them to build all of it to achieve company goals in the future.
In addition, this experience from Oentoeng Suria group is one of our references in handling group events in Bali. We have designed the activity perfectly and brought them to an exciting experience. Similarly, you can find our other experiences to handle group events during 2018.
Beach Team-building experience of PT Oentoeng Suria
Beach team building activities are a group activity to build the character of participants to be strong and solid in a team. Our game masters and experienced facilitators will guide them to work hard, be full of enthusiasm and improve communication methods so they can achieve their goals on time. The following is the experience of PT Oentoeng Suria group with us in beach team building activities on Kuta beach.
Ice Breaking – Beach Team Building
The first session was Ice breaking to arouse the fighting spirit of the participants. This activity is led directly by our master game to increase the sense of unity among participants.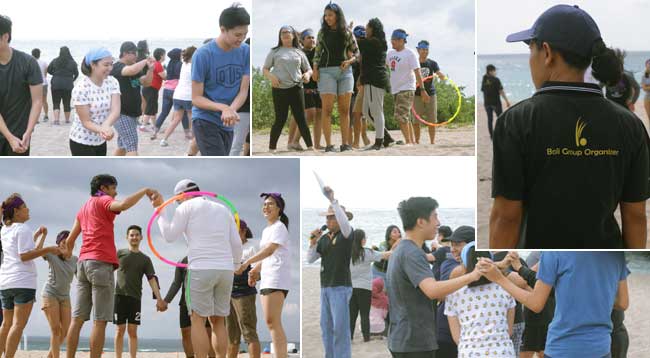 Competition Game Phase
We have provided some exciting games for them in this phase. This seems successful because the fighting spirit of each team is very high. They have shown enthusiasm in this activity while focusing on their respective goals.
Olympic Game Phase
In this closing phase, we have provided several games that use seawater media. They fight vigorously and willingly to get wet for the sake of their respective team goals. So, all of these experiences become a valuable experience to increase work productivity. Likewise, they have got a funny story from this activity because we have packed this activity with fun.
Other Group References During 2018
Another Services
Bali event organizer Services and Products
Student Trip and CSR program, instead of beach team-building experience