Surabaya Intercultural School – SIS Bali Student Trip
Surabaya Intercultural School is an international school based in Surabaya that has sent its students for educational trips to Bali. They came and took the experience on September 17-21, 2018. They come with 26 students and accompanied by 3 teachers who have joined in the study trip to the island of the gods. Furthermore, SIS (Surabaya Intercultural School) has appointed Bali Group Organizer as the only event organizer to arrange their entire agenda in Bali. We have designed the event exclusively to bring them into an extraordinary experience with unique activities while enjoying Bali's nature. With pride, we have provided activities that are full of learning, introduction and involve directly in these activities. So in the end, they can get to know more about the beautiful culture and nature of Bali. Here, we invite them to learn by doing in every activity during the trip.
In addition, all students from Surabaya Intercultural School felt very happy and cheerful while travelling in Bali. Also, we have prepared this event carefully from pick-up, accommodation, transportation, activities to their meals. So, this event really provides a lot of benefits for them besides that with guaranteed high safety. This is one of the educational trips as a reference for schools that want to hold a student trip to Bali. Also, we have experienced providing this kind of service since our company was founded. In fact, you can see more about our experience to handle group events in 2018.
SIS – Surabaya Intercultural School Experience on an educational trip to Bali
This time, we talked about the journey of students from the Surabaya Intercultural School while in Bali. We have designed the event perfectly so that it can run smoothly.
Arrival – Uluwatu Kecak Dance Tour
The first day, we immediately picked them up at the airport and went straight to the restaurant for lunch. This is because of their arrival in Bali at noon. After that, we take an excursion to Uluwatu to see the greatness of the Hindu temple built on a cliff with a beautiful view of the Indian Ocean. On a late afternoon, we watched a spectacular Kecak dance by taking a story from the epic Ramayana. Then we return to Jimbaran Bay for dinner and then return to the hotel to stay.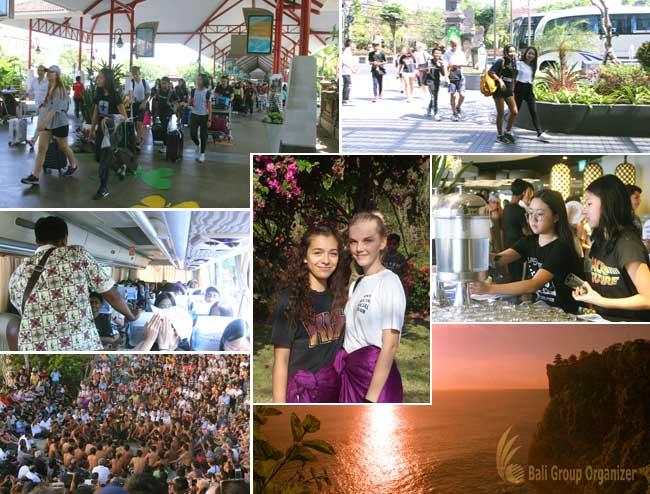 Kintamani Volcano and Visit Taman Nusa
On the second day, we invited them for an excursion to Kintamani and visited famous tourist spots along the way. Lunch at a restaurant in Kintamani with incredible views to the Batur Volcano and the lake. After that, we went down the hill and headed to Bangli district and visited Taman Nusa, a beautiful place that presents a variety of Indonesian cultures. Here, students can learn about cultures in Indonesia from Sumatra to West Papua. After that, we go to the restaurant to have dinner and return to the hotel and stay overnight.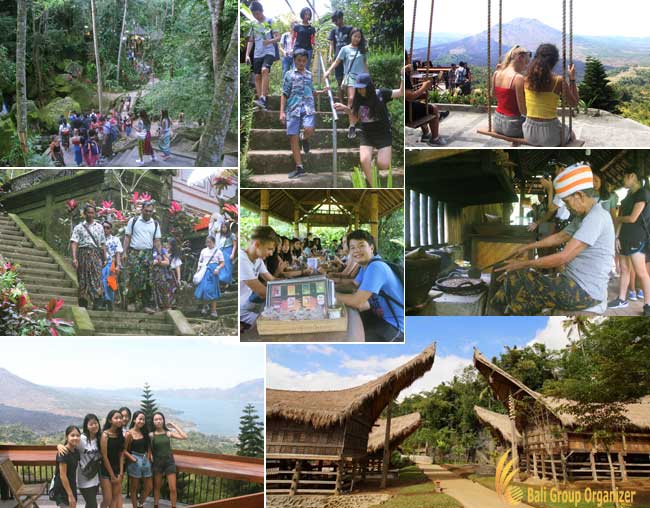 Bedugul Tour – Balinese Culture Lessons
The third-day trip really gives a different colour. That day, we headed to Bedugul to visit a Hindu temple built on funds. Also, this place is blessed by a beautiful view of the lake and cool air. Next, we head to Rumah Bali to learn Balinese culture. Each student was involved and participated in this activity starting from making Canang Sari, dancing lessons, gamelan lessons to farming in muddy rice fields. After that, we go to Tanah Lot to see the beautiful sunset and dinner at the restaurant. Finally, we go back to the hotel and stay overnight.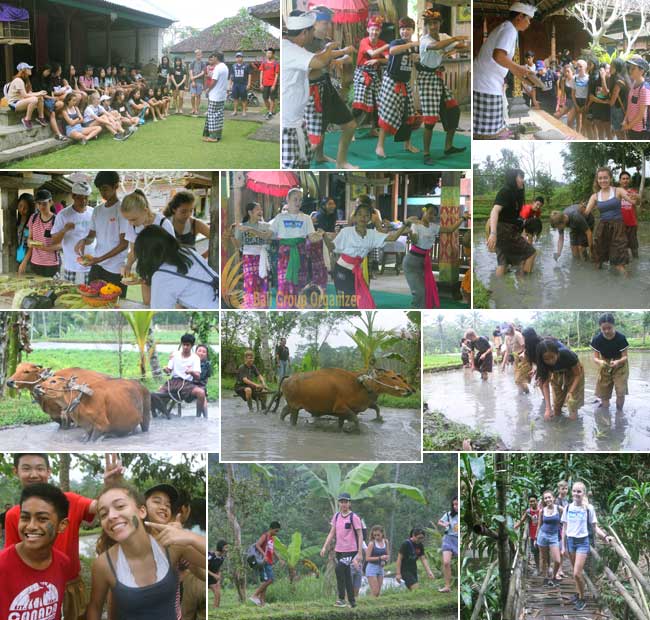 Rafting Adventure and Cooking Class
On the fourth day, we took them to the Ayung River to join the river rafting adventure. This adventure has brought them into an amazing experience to explore beautiful rivers for 2 hours. After that, we go to the cooking class to learn cooking guided by professional chefs. Here, students can learn directly how to cook as well as recognize cooking ingredients.
Check out
Finally, this memorable trip must end. After checking out from the hotel, we go straight to the airport and they continue to fly to Surabaya.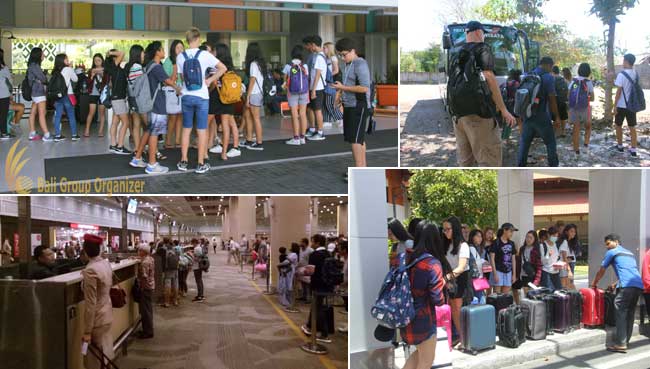 Other Group References During 2018
Another Service and Educational trip to Bali
Bali event organizer Services and Products
Student Trip and CSR program