Thuasne Group got the Experience of Cycling Adventure in Ubud
Thuasne group is a multi-international company that initially specialized in the manufacture got the experience of Cycling adventure in Ubud. This company has entrusted to Bali Group Organizer to arrange cycling events in Ubud for their staff and managers including their families. This is an amazing experience for them because they can enjoy cycling adventures in beautiful nature and see Balinese culture directly. Further, Ubud Cycling is an exciting adventure activity to bring participants to the rural realm. Also, they can explore green rice fields, stop at Hindu temples and see Balinese people in the village with their daily lifestyle. So, this is truly a fun adventure and brings them into a beautiful memory in Bali.
In addition, the Thuasne Group experience has continued to explore the city of Ubud by visiting Ubud Palace and traditional art markets. Next, we took them to a restaurant in Ubud to have dinner together while enjoying a Balinese dance directly. Finally, today's adventure ends until we return to the hotel safely. So, this is one of our experiences in handling group events and can be used as a reference for our reputation. In fact, you can also see our experience in handling other groups in the year 2018.
Thuasne Group Experience on Ubud Cycling Adventure
On this page, you can find out how we have provided services to our customers. We have prepared everything from the smallest things to everything they can enjoy. So, we feel proud that this Ubud Cycling event can run perfectly and successfully.
Safety Briefing
Before starting, our team provided safety briefings to all participants and gave directions on how to ride. Each participant gets a safety tool and they are divided into several groups. After that, the adventure begins to trace the path above the rice fields.
Starting Ubud Cycling
We start cycling through rice fields with beautiful natural scenery. Green rice fields with rice plants and see local farmers working on muddy soil.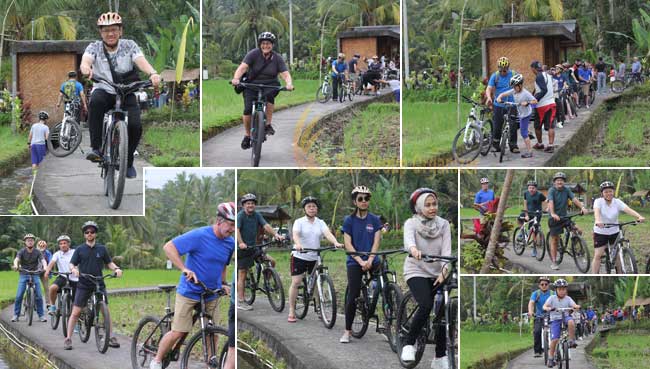 Visiting Temple Ceremony
Today is a lucky day for them. Because we can stop at a Hindu temple. At the same time, the local community carried out the temple ceremony. This is an amazing experience where they can see the temple ceremony directly while being guided by our cycling guide.
Break Time
After going through half the trip, all participants took a break while enjoying a fresh drink. Then, they continued their adventure to explore Ubud Village.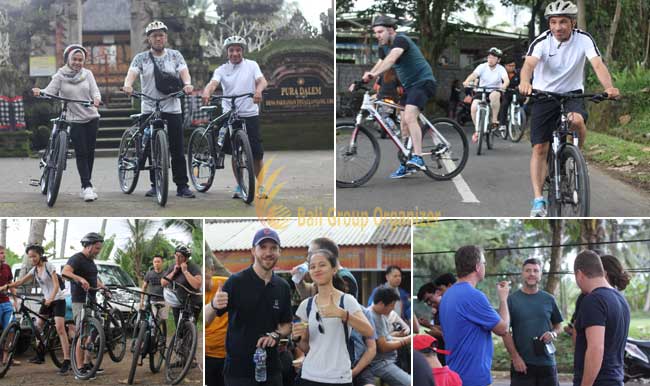 Dinner in Ubud with Balinese Dance Show
Their experience has not stopped. After exploring Ubud City and visiting Ubud Palace as well as traditional markets, they head to a local restaurant to have dinner together. We provide a dinner buffet at a beautiful restaurant while enjoying a classic performance of Balinese dance. Finally, the Ubud Cycling experience today ended when we escorted them back to the hotel safely.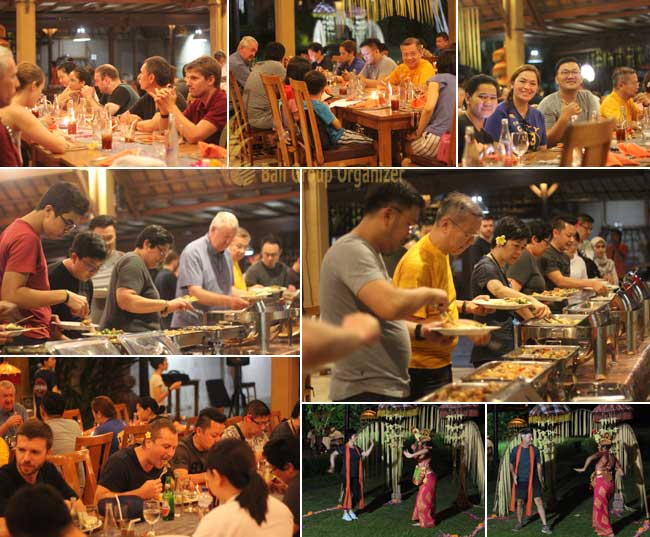 Other Group References During 2018
Another Services
Bali event organizer Services and Products
Student Trip and CSR program