Bali Treetop Adventure Team Building is an exciting team building program combining the garden team building and great challenging Treetop Adventures. It is fantastically designed for group who wish to have the great challenges of pure natures with fresh atmosphere and something to learn for improving teamwork. Bali Group Organizer as a reliable event organizer in Bali is proud to design your exclusive team building programs that are performed at Bedugul Botanical Garden. Our programs are well creatively designed by our creator teams to encourage the group participants involve in teamwork with Fun, Safety, Challenging and Exciting games.
Treasure Hunt Games on Bali Treetop Adventures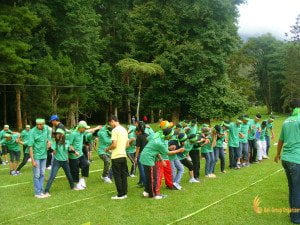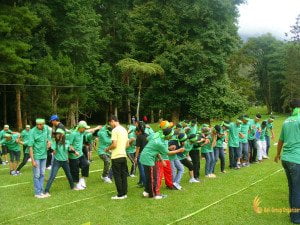 The games give your group opportunities to enjoy the great challenges to claim the trees passing some spots to collect the troves as the Treasure Hunt Games ordered. All of group participants will be challenged to face the fear of heights, passing unstable wooden bridge, swinging among the tree and flaying fox those are all designed with fully fun, challenge  and safety. Bedugul Botanical Garden offers you a complimentary of fresh atmosphere and beautiful landscape that make your group participants completely enjoyable to join the games that will be lead our professional game master and supported by well trained facilitators, scorer and supporter team.
Team Building Information
Total of participant : 25 people – minimum
Total of games : 6 – 7 games
Duration of trips : 10 – 11 hours
Venue : Bedugul Botanical Garden
Time : Morning
Systematical of Team Building Activities
Phase – 1 : GROUPING

Group Assembling
Ice Breaking with 2 – 3 games
Grouping and leader appointing including yell – yell

Phase – 2 : COMPETITION GAMES

Post 1 ( Exclusive games)
Post 2 ( Exclusive games)
On Post 3 ( Exclusive games)
COFFEE BREAK
Post 4 ( Exclusive games)
Post 5 ( Exclusive games)

Phase – 3 : TREASURE HUNT GAMES WITH TREE TOP ADVENTURE
Phase – 4 : CLOSING GAMES
Phase – 5 : EVALUATION

Evaluation session and announce the winner

Transfer back to your hotel
PHOTO GALLERY
Another Services
Bali event organizer Services and Products
Student Trip and CSR program, instead of Bali treetop adventure