World Bank Group Experience Bali VW Safari Treasure Hunt – Uluwatu Expedition
World Bank Group is a unique global partnership fighting poverty worldwide coming to Bali for the annual meeting agenda. However, at the break of the meeting agenda, they held offsite activities. For this reason, they have entrusted and appointed Bali Group Organizer as the only event organizer. We are proud to provide team-building services for them. We have designed a unique team-building activity using classic cars from the legendary Volkswagen brand. This activity has brought them an extraordinary experience to explore the countryside and visit famous tourist attractions. This time, we brought them to explore the nature of Uluwatu, which we call the Bali VW Safari Treasure Hunt, Uluwatu Expedition. It's clear, from this story can be a reference for you to arrange a group event in Bali. Or, you can find out more about our experience here.
Event Date: 13 December 2019
VW Safari Treasure Hunt Team Building
The mission of the expedition for the World Bank Group in this team-building activity is very unique. We use a VW Safari vehicle, a legendary brand from Volkswagen. This team-building activity starts at the hotel and exploring the countryside and visiting famous tourist attractions. Finally, they arrived at Uluwatu Temple as the expedition's final destination. Besides that, various kinds of games in every place that we visit are a challenge. It aims to build togetherness so that it can create strong and solid teamwork.
Ice Breaking in Meeting Room
Participants from the World Bank Group gathered in a meeting room after lunch at the hotel restaurant. Furthermore, our professional game masters provide information about their trips, the rules of the game and safety.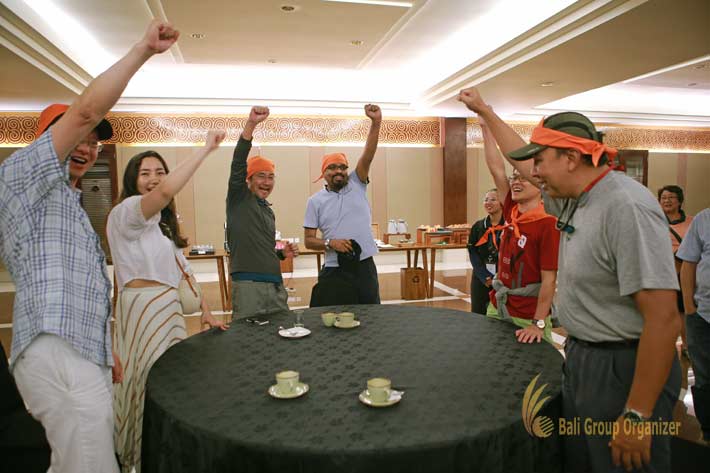 Gunung Payung Mission
The group departed from the hotel and explored the limestone hill of Kampial village. Finally, they arrived at Gunung Payung and our facilitator team welcomed them with hospitality. They jump into the garden to complete a challenging game in order to collect more points.
Treasure Hunt at Pandawa Beach
Upon arriving at Pandawa Beach, all teams moved quickly along the beach to find hidden treasures. They were only armed with a clue from our game master and immediately found it fast. However, they must complete the game before leaving for the next stop point.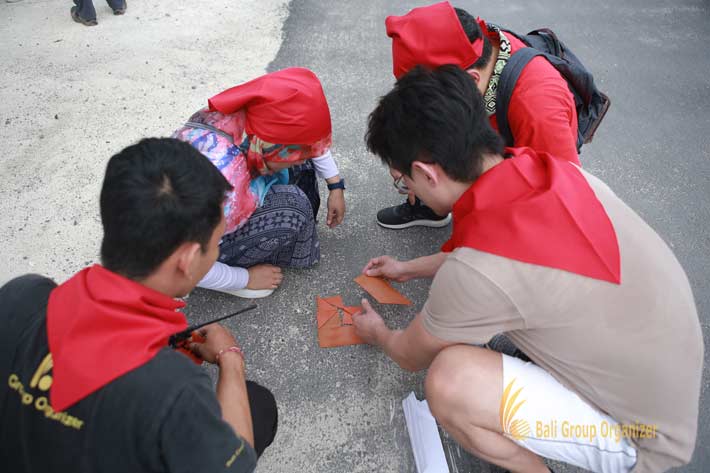 Learning Herbs and Coffee
This is a unique challenge for the World Bank Group when visiting coffee plantations. They must complete the mission to get to know herbs and taste various types of coffee. After that, we continued our journey to the Uluwatu Temple area.
Final Mission at Uluwatu Temple
The treasure hunt process in the Uluwatu temple area went smoothly even though. Meanwhile, the existence of many monkeys that inhabit dry forests around the temple is a challenge in itself. All teams can attend and complete all games according to the plan. After that, all participants can enjoy the sunset and return to the hotel.
Our Group Experiences 2019
Another Services
Bali event organizer Services and Products
Student Trip and CSR program, instead of World Bank Group