Welcome to the thrilling world of Bali Canoe Race Team Building, where teamwork, competitiveness, and adventure collide to create unforgettable memories. This activity in Bali's natural coastal and lake locations is a beautiful blend of beach team building and thrilling canoe races. It is famous for corporate groups, organizations, and visitors looking for a unique Bali beach activity.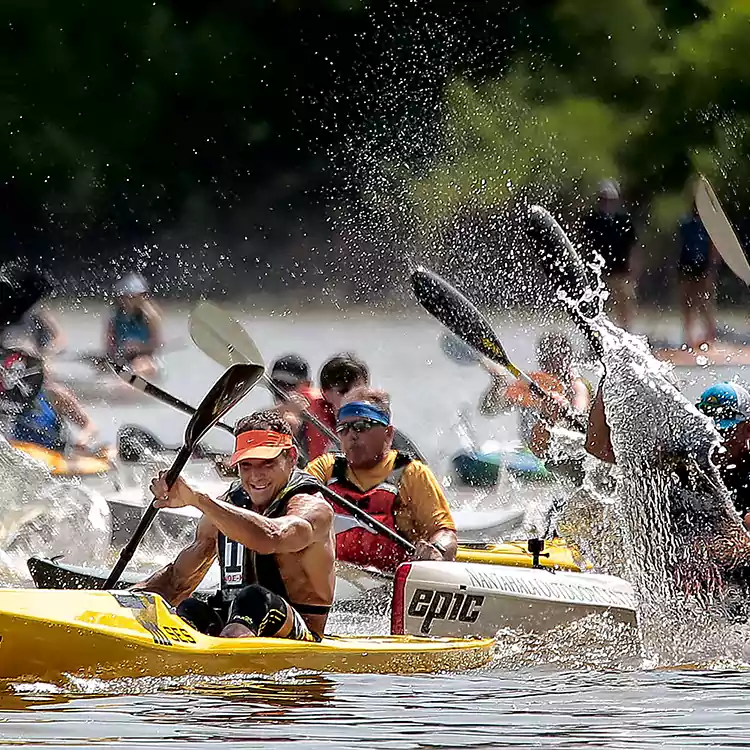 Bali Canoe Race Team Building. The Ultimate Water Adventure
Exploring the Perfect Settings
The natural beauty of Bali sets the backdrop for an unforgettable team-building trip. Our chosen venues, which include Sanur Beach, Nusa Dua Beach, Pandawa Beach, and the tranquil Lake Beratan in Bedugul, offer calm waters suitable for canoe racing. These carefully chosen locations provide a safe and fun experience, with modest waves ideal for beginners and expert paddlers.
Why Choose Bali Canoe Race Team Building?
We at Bali Group Organizer have over 25 years of expertise as event organizers in Bali, specializing in comprehensive team-building activities. Many of our clients choose Bali Canoe Race Team Building because it aligns with their Bali itinerary. We take pleasure in offering excellent service and developing unique and creative activities.
Safety and Precautions
We put safety first and have robust safety procedures in place. Participants are given life jackets and other necessary safety equipment. Meanwhile, our experienced rescue team is constantly on hand. In addition, we have a fully stocked first aid package to assure the safety of all participants.
Important Considerations
Before embarking on your Bali Canoe Race team-building adventure, there are essential factors to consider:
Terms and Conditions and Permits: Please know our terms and conditions, including necessary permits. Due to environmental conservation efforts, our activities are limited to specific beach and lake locations.
Safety, Health, and Personal Items: Participants should be mindful of their safety and well-being. We recommend wearing appropriate attire and sunscreen. Avoid bringing valuable items, as we cannot be responsible for their safety during the activity.
Total number of participants: 30 people (minimum)

Total of games: 6 - 7 games

Duration of games: 3 - 3,5 hours

Venue: Beach or Lake

Time: Morning or Afternoon
Phase – 1: GROUPING

Group Assembling
Ice Breaking with 2 – 3 games
Grouping and leader appointing, including yell–yell

Phase - 2: GARDEN/BEACH COMPETITION GAMES

Game 1 (exclusive game)
Game 2 (exclusive game)/li>
Game 3 (exclusive game)

BREAK TIME

Phase – 3: OLYMPIC GAMES

Olympic Game 1
Olympic Game 2
Olympic Games 3

Phase – 4 : CANOE RACE GAME
Phase – 4: CLOSING GAMES
Phase – 5: EVALUATION

Evaluation session and announce the winner

Taking shower and change the clothes

Back to hotel
Bali Canoe Race Team Building is more than simply racing. It's all about encouraging teamwork, establishing trust, and making lasting experiences. Our team-building experience offers a fantastic journey, whether you're a business group trying to improve ties or a group of friends looking for adventure.
Join us for Bali Canoe Race Team Building and discover the perfect blend of team bonding, competition, and natural beauty in the heart of Bali. Experience the thrill, create memories, and leave with a stronger, more connected team.