Bali Team-Building Muddy Land Life Struggling are the fantastic team building games to encourage all group participants into the fun games on the muddy land. Bali Group Organizer invites you to get wet and muddy while completing the challenging games provided by our professional game master. The games will encourage you to jump down to the muddy land in the center of rice field and force you to get win on every game. Our games are creatively created by our creator teams to build a strong and solid teamwork, adaptability of working environments, improve the communication skills, speed of work and focus on company's goals those are all executed in full fun, exciting, challenging and safety.
Getting Wet and Muddy with Team-Building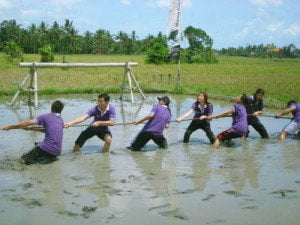 Before getting wet and muddy, our game master will lead several attractive games to give more challenges for every group/team to win the games. Each of game has been setup and designed with fun, race and challenges those are force them to use their own tactic, strategy, imagination and motivation to win it. It is an exclusive program that will bring you group to involve into the fun atmosphere, totally wet and muddy those are giving them unforgettable memory. It is opened for customize programs that can be combined with other activities include treasure hunt trekking, cycling or any other safari tours. If there any other ideas to combine our game, please feel free to contact our team HERE.
Information About Bali Team-Building Muddy Land Life Struggling 
Total of participant : 30 people – minimum
Total of games : 6 – 7 games
Duration of trips : 2.5 – 3 hours
Venue : various
Time : Morning
Systematical of Team-Building
Phase – 1 : GROUPING

Group Assembling
Ice Breaking with 2 – 3 games
Grouping and leader appointing including yell – yell

Phase – 2 : GARDEN COMPETITION GAMES

Game 1 ( Exclusive games)
Game 2 ( Exclusive games)
On Game 3 ( Exclusive games)

The Phase – 3 : MUDDY COMPETITION GAMES

Game 1 ( Exclusive games)
Game 2 ( Exclusive games)
On Game 3 ( Exclusive games)

Phase – 4 : CLOSING GAMES
Phase – 5 : EVALUATION

Evaluation session and announce the winner

Taking shower and change the clothes
Enjoy Lunch
Transfer back to your hotel
PHOTO GALLERY – Muddy Bali team-building
Another Services
Bali event organizer Services and Products
Student Trip and CSR program, instead of the Bali team-building