Bali Raft Building Game is one of the exciting games on Team Building Activities for group by constructing the traditional raft for evacuation each of group participants to assembling point. It is one of the fantastic team building games to encourage all group participants to force their ability, creativity and spirit of life struggling to win the game. Our team building games are creatively created by creator teams to build a strong and solid teamwork, improve adaptability, communication, individual confidences, speed of work, working environments and focus on company's goals. These games are not only beneficial for participant's personality but also good for company or organization to increase the productivity.
Bali Raft Building Game – Stringing Strategy to Win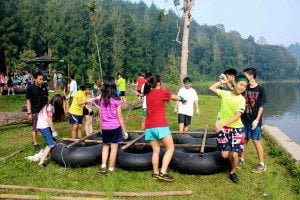 Our team building games are perfectly structured to build the character of individual or organization to be strong and have spirit to achieve the common goals. Each group will be challenged to pull out the ideas, creativity and spirit to stringing, arrange and execute the games with own strategy to win the game in efficient and on time efforts. Our professional game master assisted by experienced facilitators will always outstanding to serve, lead and motivate your group participants to involve in every game to make the whole event successfully.
Bali Team Building Activities Information
Total of participant : 30 people – minimum
Total of games : 6 – 7 games
Duration of trips : 2.5 – 3 hours
Venue : Beach
Time : Morning or Afternoon
Systematical of Team Building
Phase – 1 : GROUPING
Group Assembling
Ice Breaking with 2 – 3 games
Grouping and leader appointing including yell – yell
Phase – 2 : GARDEN/BEACH COMPETITION GAMES
Game 1 ( Exclusive games)
Game 2 ( Exclusive games)
On Game 3 ( Exclusive games)
COFFEE BREAK
Phase – 3 : WATER COMPETITION GAMES
Game 1 ( Exclusive games)
Game 2 ( Exclusive games)
On Game 3 ( Exclusive games)
Phase – 4 : CLOSING GAMES
Closing Game
Phase – 5 : EVALUATION
Evaluation session and announce the winner
Taking shower and change the clothes
Transfer back to your hotel
PHOTO GALLERY – Team Building activities
Another Services
Bali event organizer Services and Products
Student Trip and CSR program, instead of Bali raft building game