Medan Independent School Experience on Bali Student Trip
Medan Independent School is an international school based in Medan, took the experience on a student trip to Bali. Students from this school together with 18 students and 2 teachers came to Bali for student tours for 4 nights and 5 days. Furthermore, they have appointed Bali Group Organizer as the only event planner in Bali to organize all their travel agenda. We have designed their agenda exclusively and brought them into exciting journeys with high learning messages. Meanwhile, our experienced team serves these students with excellent service so that their entire journey can run smoothly.
In addition, the Medan Independent School is often called by MIS to carry out student travel activities to Bali on October 29 – November 2019. All the students really enjoyed this trip because we had carefully arranged it. Likewise, the teachers who accompanied them were very enthusiastic in monitoring their students during their trip to Bali. So, their experience is proof that we are capable and experienced in serving student trips. You can make their trip a reference to organize your students' future trips. In fact, you can also easily find our experience handling group events throughout 2018 on our site here.
Bali Student Trip Experience by MIS
We are very happy to share the travel experience of students from Medan Independent School (MIS) during a visit to this island of the gods. Furthermore, we have designed their journey in such a way and give them a lot of experience. So, they can get to know more about Balinese culture and see the lives of people here. In fact, they are also involved in cultural activities that we provide to complement their experiences in Bali.
Arrival and Uluwatu Tour
When arriving at Denpasar Airport, our team has been waiting and welcoming them at the arrival door. Next, we took them for sightseeing to Uluwatu to see the greatness of the Hindu temple which was built on a limestone cliff with a magnificent view of the Indian Ocean. On a slow afternoon, they watched the Kecak dance with fire and continued with dinner at the restaurant. After that, we check-in at the hotel and stay overnight.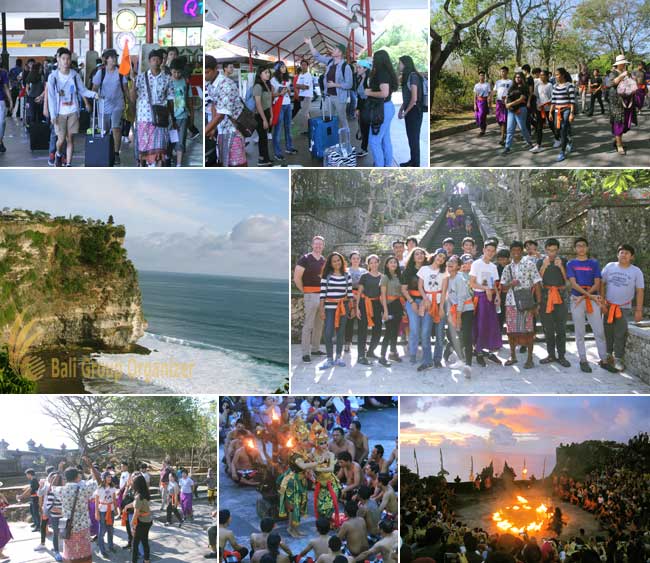 Kintamani Tour and Visit Indonesian Cultures
The second day, we invited them for an excursion to the Kintamani hill to see the amazing scenery. Before that, we visited several other famous tourist attractions and arrived at Kintamani. Lunch is served in a restaurant with views of Batur volcano and the lake. Next, we go down to the city of Bangli and visit Taman Nusa. Here, students can learn about Balinese dances and instruments guided by professional teachers. Also, they explored the entire Taman Nusa area which is famous for its one-stop visit Indonesian Culture. After dinner, we return to the hotel and stay overnight.
Bali Cycling and River Rafting Adventure
The third day, they have an amazing experience to explore the beautiful nature of Bali. We have taken them to join in an exciting adventure by pedalling mountain bikes across green rice fields, beautiful villages, and jungles. After that, they continued the adventure on the Ayung river to join in the white water rafting adventure. This adventure is guided by an experienced river guide with a high standard of safety. So, all of today's experiences can run smoothly and full of memories.
Ubud Tour and Cooking Class
On the fourth day, we invited them to explore the famous Ubud village with an art centre on the island of Bali. They visited Tegalalang with an amazing rice terrace. Also, they visited Silversmith to see Balinese making silver crafts. After that, we took them to join the cooking class. So, they can learn about how to cook Balinese food. They can also get to know cooking ingredients directly and follow the cooking process guided by professional chefs.
Check out and Tanah Lot Tour
On the last day, they had packed up and checked out of the hotel. Next, we invite them to visit Tanah Lot to complete their experience in Bali. After lunch, we leave for the airport and they continue the journey back to Medan.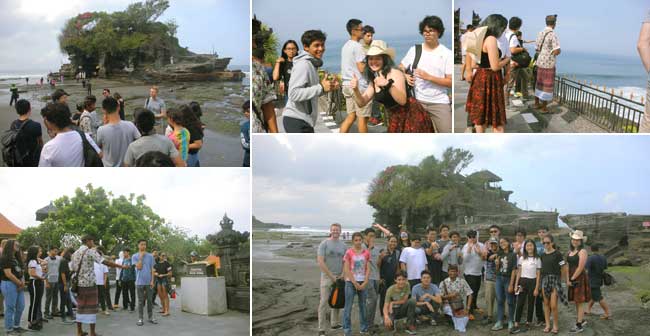 Other Group References During 2018
Another Service and Student trip to Bali
Bali event organizer Services and Products
Student Trip and CSR program