Muddy Bali Team Building is proudly presented by Bali Group Organizer, known as the best event organizer in Bali, as a monument to our over 25 years of great experience in the area. Our solid track record in event organization demonstrates our dedication to quality. Muddy Bali Team Building is one of our unique ideas, designed to engage group members in a fascinating muddy adventure. We provide a unique opportunity for groups to bond, grow, and experience the camaraderie that comes from shared muddy escapades by combining the beauty of Bali's natural surroundings with the excitement of team building.
Muddy Bali Team Building Muddy, Unleash Adventure and Team Bonding
Muddy Bali Team Building provides fantastic team-building activities that engage all participants in exhilarating muddy adventures. Bali Group Organizer invites you to immerse yourself in the mud and participate in fascinating challenges coordinated by our professional game masters. These games will have you plunging into the muddy terrain of a rice field, pushing your team to victory in each exhilarating challenge.
Our creative team-created activities foster strong teamwork, and adaptability in a variety of work contexts. Also, it can improve communication skills, increase work speed, and a stronger focus on company goals. Those are all maintaining a fun, exciting, challenging, and safe workplace.
Team-Building Activities That Get You Wet and Muddy
Before plunging into the muddy adventures, our skilled game master will lead you through several fun activities. They will create an extra layer of challenge for each group or team to overcome. Each game is carefully designed to incorporate aspects of enjoyment, competition, and challenges. It compels participants to use their tactics, strategies, creativity, and motivation to win. This special program ensures that your group is completely immersed in a vibrant and exciting environment. They'll all become wet and dirty, which will become an unforgettable memory.
Safety, Health, and Preparedness
Our participants' health and safety are our primary objectives at Bali Muddy Team Building. Our expert crew and game master ensure that all activities are carried out with stringent safety precautions. We give safety instructions and all essential equipment to ensure that everyone has a safe and fun experience.
Rest assured, our dedication to your safety extends to our extensive health measures, which include hygiene and sanitation, allowing you to enjoy your muddy experience worry-free.
What to Expect on Muddy Bali Team Building?
Thrilling Challenges: Engage in a series of exciting and adventurous challenges that will push your team's limits and test your problem-solving skills.
Muddy Adventures: Prepare to get wet and muddy as you dive into the heart of the action. Embrace the mud and enjoy the unique experience it brings.
Team Bonding: Strengthen your team's cohesion as you collaborate to overcome obstacles and achieve common goals.
Beautiful Natural Surroundings: Immerse yourself in Bali's stunning landscapes, from lush rice fields to other picturesque settings, providing the perfect backdrop for your adventures.
Friendly Competition: Experience healthy competition as you race against the clock and your fellow participants in a fun and engaging environment.
Unforgettable Memories: Create lasting memories with your team as you conquer challenges, celebrate victories, and navigate through the muddy terrain together.
Full Fun and Excitement: Expect a day filled with laughter, excitement, and a sense of achievement as you successfully complete each challenge and make memories that will last a lifetime.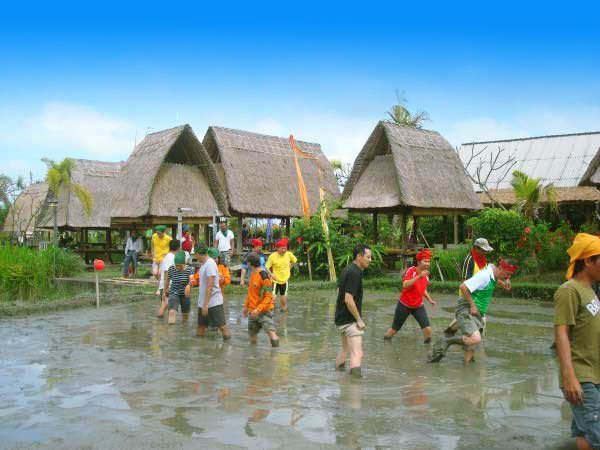 Total number of participants: 25 people (minimum)

Total of games: 6 - 7 games

Duration of games: 2,5 - 3 hours

Venue: Rice Field

Time: Morning or Afternoon
Phase – 1: GROUPING

Group Assembling
Ice Breaking with 2 – 3 games
Grouping and leader appointing, including yell–yell

Phase - 2: GARDEN COMPETITION GAMES

Game 1 ( Exclusive games)
Game 2 ( Exclusive games)
Game 3 ( Exclusive games)

BREAK TIME

Phase – 3: MUDDY COMPETITION GAMES

Game 1 ( Exclusive games)
Game 2 ( Exclusive games)
Game 3 ( Exclusive games)

Phase – 4: CLOSING GAMES
Phase – 5: EVALUATION

Evaluation session and announce the winner

Taking shower and change the clothes

LUNCH TIME

Back to hotel