| | |
| --- | --- |
| Event Date | 16 May 2019 |
| Customer | AB Food and Beverage Thailand Ltd |
| Category | Incentive Travel |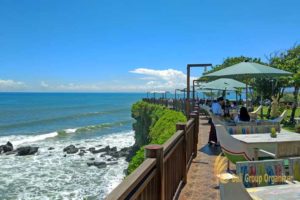 AB Food and Beverage Thailand Group Event
Food & Beverage AB Thailand Group is a food and beverage manufacturing and marketing corporation operating in various countries, including Indonesia. In March 2019, they arrived in Bali with 32 marketing workers from several Asian nations for an incentive trip. In addition, they have hired our company to organize team-building activities. This activity attempts to foster solid teamwork. This team-building activity can bring them together and encourage positive connections.
Meanwhile, being the only reputable event planner in Bali offering team-building activities, we have supplied them with an exciting experience. The Bali VW Safari Treasure Hunt Tanah Lot Expedition is a popular team-building activity for business groups in Bali.
This activity has provided many great memories while uniting the group in an exciting event. Aside from that, team-building activities for the AB Food and Beverage Thailand Ltd group were beneficial activities to develop their relationship. This is because they come from different offices in Southeast Asia and rarely meet. As a result, this is the best option for them to improve the quality of the company's marketing people.
Bali VW Safari Treasure Hunt Tanah Lot Expedition
This is a fantastic experience that involves driving a renowned Volkswagen Jeep through the gorgeous landscape of Bali. Each participant will have an exceptional experience riding in an ancient car and convoy to beautiful villages in Bali. We can also travel through stunning green rice fields and visit well-known tourist destinations. So, let us accompany them on their voyage.
Depart from Hotel
Following the safety briefing and grouping session, we carefully navigated the city population to the rice fields. We traveled through beautiful villages together, enjoying the friendliness of the locals with their happy smiles along the way. We eventually arrived at Sangeh Monkey Forest.
Sangeh Treasure Hunt and Amazing Race Team Building
Each group begins their treasure hunt mission when they arrive at Sangeh Monkey Forest. Our master game has assigned each team a specific task. Then they took part in the fantastic race event. Above the green garden, this is an enjoyable team-building activity. They then resumed their journey to Baha Village.
Learning the Balinese Language at Baha Village
The trip to Baha village was thrilling because we witnessed magnificent green rice fields. In addition, we drive through Balinese houses in lovely villages, occasionally greeting pleasant inhabitants. When they arrived in Baha village, each team went to work learning the Balinese language from the housekeepers. Meanwhile, other members are working on the games that we have planned. They then made their way to Taman Ayun Temple.
Taman Ayun Mission
Each team's mission is to find a hidden treasure in this temple area. They only have a clue to find the treasure and work on the game that we have set. Next, they must complete the last mission in Tanah Lot.
Visit Tanah Lot and Lunch
They carry out their last mission to collect points when they arrive at Tanah Lot. They finally completed this previous mission while sightseeing in this beautiful tourist area. After that, they enjoyed lunch at a restaurant on a cliff with amazing views of the Indian Ocean. Eventually, we returned to the hotel together by using an air-conditioned bus.