| | |
| --- | --- |
| Event Date | 12 – 15 January 2015 |
| Customer | NetCcentric Pte. LTD |
| Category | Incentive Travel |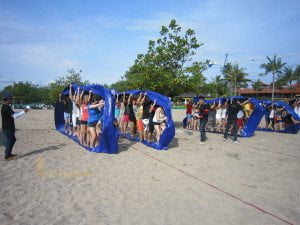 NetCcentric Group Event History
NetCcentric Group is a group of 77 employees from NetCcentric Pte LTD in Singapore who came to Bali for an incentive trip. They participated in a team-building activity on the beach, dinner, and sightseeing in Bali. Meanwhile, Bali Group Organizer has planned the ideal customized Incentive trip itinerary. Most participants had a good time and had fun, challenges, learning, and togetherness.
Beach Team Building
Bali Team Building refers to gaming activities that foster teamwork. Mutual support, unity, respect, one heart, one soul, complement and reinforce, and compact are the components of this collaboration. There are three sessions for the Beach Team Building activity.
Amazing Race Games
We begin with the beautiful race games after warming up. We immersed them in fascinating, engaging, and challenging game activities. It has compelled them to use their quick, efficient work, communication, and solid teamwork to attain their objectives.
Olympic Game Phase
We present complete challenges in the Olympic Game Session with three enjoyable games. We force them to succeed using their brain, communication skills, excellent teamwork, strategy, and leadership. Three of the games in this session are pretty exciting.