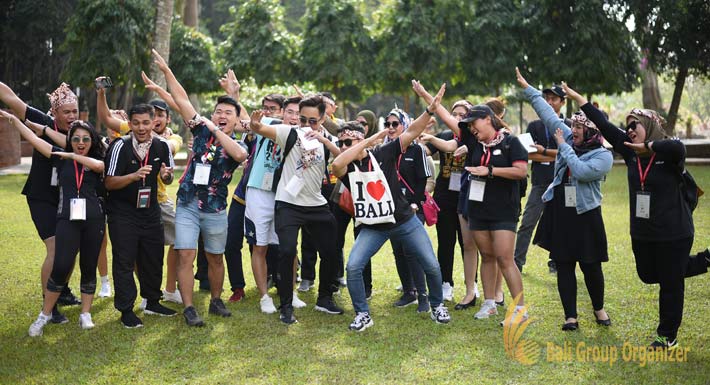 | | |
| --- | --- |
| Event Date | 18 September 2019 |
| Customer | Prudential Malaysia |
| Category | Incentive Travel |
Prudential Malaysia Group Event
Prudential Malaysia has come to Bali with 260 participants for incentive activities. Bali Group Organizer, one of the event planners in Bali, has been given the confidence to arrange their offsite activities. For this reason, we are proud to have successfully served this large group. Furthermore, they have joined in an exciting and unique team-building action. Our team-building idea has taken the theme of treasure hunt games but has touched cultural and natural inspiration. Therefore, we have designed an impressive team building using a legendary Volkswagen car.
We took all the participants on a safari to explore the beautiful countryside, see the green rice fields, and visit tourist attractions. It indeed was a fantastic experience and provided many memories for each participant. You can make this kind of experience a reference for organizing your group events in Bali. You can also see experiences in handling other group events here. So, no doubt that we are ready to help you.
Ice Breaking Session for Prudential Malaysia Group
Before starting the event, we gave a short safety briefing at a meeting hall during the ice-breaking session. All participants gathered, and we divided into 12 teams. Meanwhile, our professional and experienced game master gives instructions on rules and safety during the trip. After that, all participants entered their cars, which we labeled. Next, we set out on a safari through a small part of the city crowd. We also explore green rice paddies and traditional villages.
Environmental Learning Mission in Sangeh Monkey Forest
Our group event this time is very unique. Each team has a mission to learn about the environment in Sangeh Monkey Forest. They are challenged to learn more about tropical forests and their habitats. Meanwhile, all participants seemed enthusiastic and struggled to complete their respective missions.
The Mission of the Environment and Herbal Plants in Coffee Plantations
This mission is very exclusive to the Prudential Malaysia Group. Each team will be challenged to know the environment and its benefits for human life. Therefore, our game master has prepared assignments for each team within a specific time frame. They must be able to complete all these tasks. They also have the opportunity to taste several types of famous coffee. After that, our safari continues to the ending point.
Last Mission at Tanah Lot
Tanah Lot is a famous tourist attraction in Bali with beautiful natural scenery. Each team gets a mission to find a treasure in a particular place. After completing the mission, they go to a restaurant with a fantastic view of the Indian Ocean for lunch. Finally, Prudential Malaysia Group returned to the hotel to end today's agenda.