| | |
| --- | --- |
| Event Date | 12 February 2015 |
| Customer | PT Sarihusada Generasi Mahardhika |
| Category | Incentive Travel |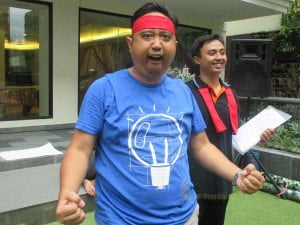 Group Event History
PT. Sarihusada Generasi Mahardhika, a local corporate company, came to Bali for incentive travel with 18 employees. They have hired Bali Group Organizer to organize a unique team-building event at their hotel. Furthermore, we have created a fantastic team-building exercise at the pool area that combines race and Olympic games. We hold this activity in The Trans Hotel Seminyak. All participants were happy with the event because it gave them fun, challenges, learning, and a sense of community.
Pool and Garden Team Building
Pool and garden team-building activities provide a pleasant blend of outdoor activities that promote teamwork and creativity. Participants participate in interactive activities in beautiful settings, improving collaboration and communication. This immersive method energizes employees, generating a dynamic and collaborative workplace.
Ice Breaking
This is the first session of team-building activities to get the atmosphere going. This activity is intended to promote self-confidence, teamwork, and getting to know one another.
Amazing Race Games
We begin with the beautiful race games after warming up. It takes them into thrilling and enjoyable activities. Meanwhile, each game is full of difficulties in capturing their quick, efficient work, communication, and excellent teamwork.
Olympic Game
We deliver complete challenges in the Olympic Game Session with three distinct, enjoyable games. It forces participants to use their brains, communication skills, great collaboration, strategy, and leadership to win every game we set up for them.