| | |
| --- | --- |
| Event Date | 01 February 2019 |
| Customer | Telkom HCOE Jakarta |
| Category | Incentive Travel |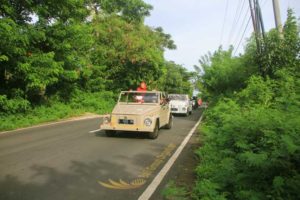 Telkom HCOE Jakarta Group Event
Telkom HCOE Jakarta has traveled to Uluwatu using the VW Safari. With 38 people, visiting Bali's southern area on the island of the gods is an exhilarating adventure. They have also hired us to provide these services during business trips to Bali. Meanwhile, this VW Safari Tour is an excellent solution for filling out-of-door activities for groups from firms or organizations, such as Telkom HCOE Jakarta. They enjoy a thrilling and enjoyable tour in a legendary Volkswagen automobile. An expert staff has meticulously planned the trip so that they can enjoy it effortlessly and spectacularly.
In addition, we call this journey the VW Safari GWK Uluwatu Expedition. The Telkom HCOE Jakarta group was excited and liked the tour. On the other hand, we created this classic tour that begins from the hotel and explores interesting spots on Bali's peninsula. They also visited amazing sights like Garuda Wisnu Kencana, Pandawa Beach, a coffee plantation, and Uluwatu. They may even see the fantastic Kecak dance before the event ends with dinner at Jimbaran Bay.
Telkom HCOE Jakarta VW Safari Tour Experience
The VW Safari excursion is a classic excursion that takes guests to the sensation of traveling outside of town in the iconic Volkswagen car. This time, our adventure brought them to Uluwatu, Bali. Check out the Telkom HCOE Jakarta group's experience below.
Depart to Garuda Wisnu Kencana
They left the hotel lobby together, taking the Bay Pass road to GWK. Furthermore, GWK, or Garuda Wisnu Kencana, is a cultural park dedicated to preserving Balinese culture. We can also see the Garuda Wisnu Statue, the tallest statue in the world. Meanwhile, this statue depicts Lord Vishnu riding a massive bird.
Visit Pandawa Beach
From GWK, the group moved to the Pandawa beach, a beautiful beach on the limestone hill valley. This trip explores dry and barren areas in the village of Kutuh.
Coffee Plantation
This exciting journey continues towards a coffee plantation near Uluwatu. Furthermore, we move slowly and convoy through dry forests and beautiful villages. All vehicle roofs are opened to get fresh air. So, this is fantastic.
Uluwatu Sightseeing
Finally, today's VW Safari Tour trip ends at Uluwatu. All participants have enjoyed sightseeing in the holy temple area with stunning views of the Indian Ocean. On a late afternoon, they enjoyed a colossal and spectacular Kecak dance that had attracted many tourists. Today's agenda ended after all participants enjoyed dinner at Jimbaran and returned to the hotel.