Welcome to Bali Farm Adventures, which will take you to an extraordinary experience in the middle of the green rice fields in Bali. Bali Group Organizer has been your trusted partner in organizing enriching group events for over 25 years. Immerse yourself in the heart of Bali's agricultural traditions with our Bali Farm Adventures program. This unique experience caters to all, especially students seeking an educational and hands-on adventure.
Bali Farm Adventures Overview
Explore the lush landscapes of Bali through our thoughtfully crafted farm activities. Whether you're trekking through scenic rice paddies, ploughing the fields, planting rice saplings, or participating in the age-old tradition of rice harvesting, each activity promises an authentic connection with Bali's agrarian roots.
Short Trekking in the Rice Fields
Embark on a journey through Bali's vibrant greenery with our short trekking activity. Led by experienced guides, this trek provides a close-up view of the mesmerizing rice terraces, allowing participants to appreciate the intricacies of Bali's farming landscape.
Ploughing the Fields
Experience the thrill of cultivating the land as you engage in the traditional practice of ploughing the fields. Under expert supervision, participants get hands-on experience with conventional ploughs, deepening their connection to Bali's rich agricultural heritage.
Planting Rice Saplings
Delve into rice cultivation by planting saplings in the fertile Balinese soil. Our knowledgeable instructors guide participants through the process, sharing insights into the significance of rice farming in Bali's cultural tapestry.
Harvesting Rice
Timing is critical for this seasonal activity. Depending on the time of your event, participants may have the opportunity to join local farmers in the exhilarating process of harvesting rice. This hands-on experience offers a deep sense of accomplishment and connection to the agricultural cycle.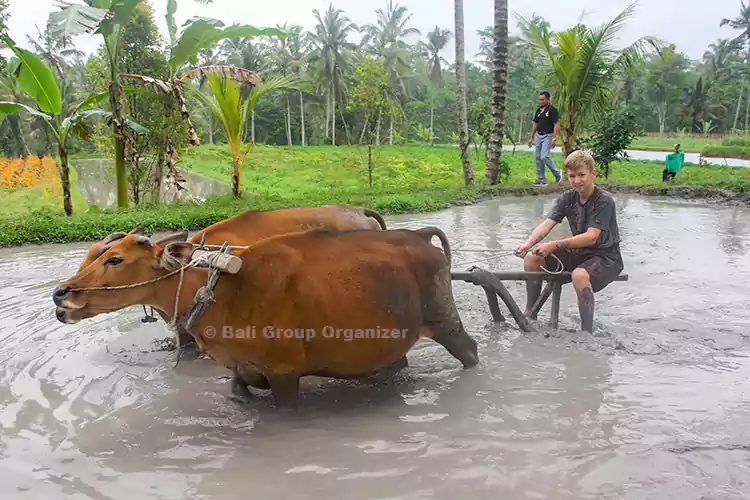 Why Choose Bali Group Organizer for This Event?
Bali Group Organizer stands out as the go-to partner for your farm tour in Bali due to our extensive experience, dedicated team, and commitment to delivering memorable and authentic experiences. We ensure seamless event planning, allowing you to focus on enjoying every moment.
Benefits of the Bali Farm Adventures Program
Participants gain a newfound appreciation for Bali's agricultural traditions and foster teamwork, cultural understanding, and environmental awareness. Our programs are designed to leave a lasting impact on both individuals and groups.
Ideal for Students
Bali Farm Adventures provides a unique and educational experience for students. From learning about sustainable farming practices to actively participating in agricultural tasks, students gain practical knowledge while fostering a deeper connection to nature and local culture.
Safety and Environmental Considerations
Safety is our top priority. Our experienced guides ensure that all activities are conducted with the utmost care, considering factors such as weather conditions and the physical well-being of participants. These activities occur in natural and muddy environments, so we provide necessary precautions and guidelines to ensure a secure and enjoyable experience.