Welcome to Bali Beach Team Building, where the sands of Bali are transformed into a playground for team bonding and adventure. Bali Group Organizer has over 25 years of event management experience and specializes in delivering unique team-building events. Our Bali Beach Team Building activities encourage cooperation, creativity, and collaboration among your team members. Meanwhile, we allow them to enjoy the sun, sea, and beach.
Embrace the Bali Beach Team Building Experience
A Fusion of Fun and Learning
Bali Beach Team Building mixes the exhilaration of outdoor activities with the fundamentals of effective team building. Participate in challenges, games, and problem-solving activities with your team. All of this takes place against the breathtaking background of Bali's beautiful beaches. Our carefully crafted activities are intended to improve communication, leadership, and teamwork, strengthening and uniting your team.
The Beaches of Bali: Your Team's Playground
Bali has many stunning beaches, each with its ambience for your team-building event. We tailor your Bali Beach Team Building event to your group's interests and aims, from the tranquil shores of Nusa Dua to the bustling sights of Seminyak. However, it is crucial to note that not all beaches are appropriate for team-building activities. We make sure that all required permissions and regulations are in place.
Safety, Health, and Preparedness
Safety is our top priority. We undertake extensive safety evaluations, supply experienced facilitators, and outfit your team with all necessary safety equipment. Furthermore, we highlight the importance of health and fitness during your Bali Beach Team Building event. Please bring your sunscreen, hat, and sports shirt to protect yourself from the sun. Meanwhile, we will serve refreshments to avoid the effects of dehydration.
What to Expect?
During your Bali Beach Team Building experience, your team will:
Engage in Fun Games: Participate in exciting beach games and challenges to build trust, communication, and problem-solving skills.
Promote Creativity: Encourage creative thinking through team-building exercises that require innovation and adaptability.
Strengthen Bonds: Foster stronger connections among team members as they collaborate, support, and motivate each other.
Enhance Leadership: Identify emerging leaders within your team and develop their leadership skills.
Achieve Common Goals: Work together to achieve shared objectives, mirroring the dynamics of your workplace.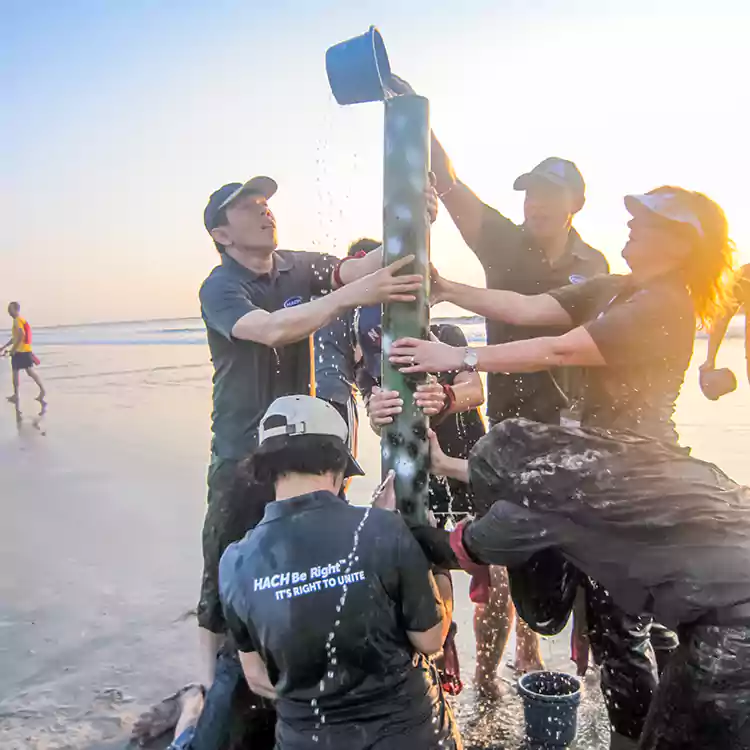 Total number of participants: 25 people (minimum)

Total of games: 6 - 7 games

Duration of games: 2,5 - 3 hours

Venue: Beach

Time: Morning or Afternoon
Phase – 1: GROUPING

Group Assembling
Ice Breaking with 2 – 3 games
Grouping and leader appointing, including yell–yell

Phase - 2: COMPETITION GAMES

Race Game 1
Race Game 2
The Race Game 3
The Race Game 4

BREAK TIME

Phase – 3: OLYMPIC GAMES

Olympic Game 1
Olympic Game 2
The Olympic Games 3

Phase – 4: CLOSING GAMES
Phase – 5: EVALUATION

Evaluation session and announce the winner