Bali Fun Rally Team Building is the perfect method to strengthen team bonds while seeing the gorgeous island of Bali. This original concept combines the excitement of a rally adventure with the team-building aspects of team activities, all set against the stunning beauty of Bali. As a result, you are in good hands with the services of Bali Group Organizer, who has over 25 years of event organizing experience.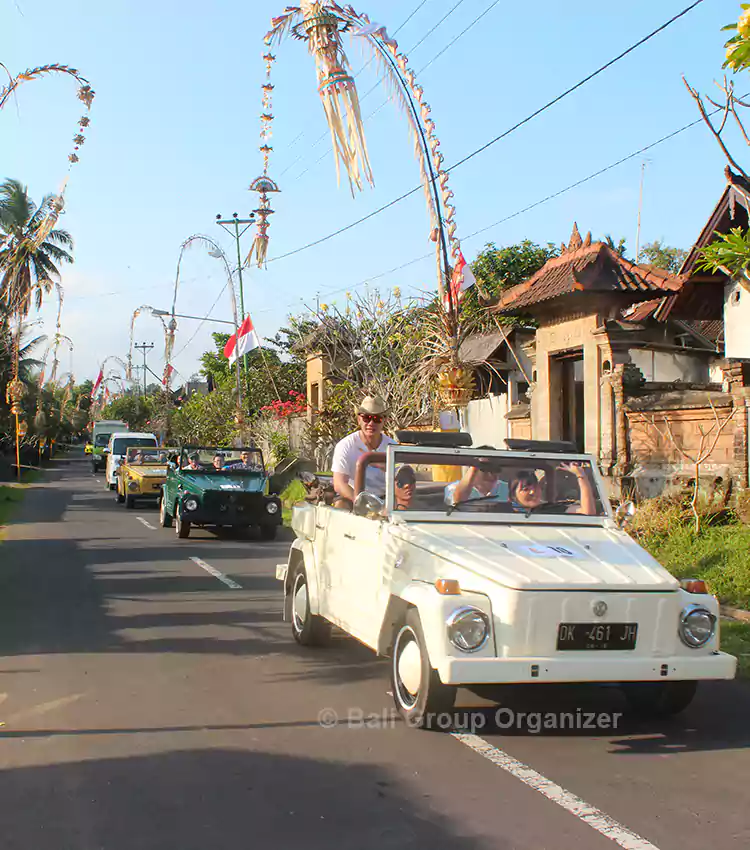 Discovering Bali in Style through Bali Fun Rally Team Building
Bali Fun Rally Team Building is a unique fun rally program for groups who want to go on a rally trip with a variety of fun games from Team Building Programs. Furthermore, our creative team has attractively prepared this activity to establish solid teamwork, enhance the pace of work, carefulness, efficiency, and working surroundings, and focus on each goal. Meanwhile, our expert game master and team will give our best services from the beginning to the end.
Unleash Adventure with Bali Fun Rally Team Building
Imagine driving legendary vehicles such as VW Safaris, Land Cruisers, or other unique possibilities on an epic adventure across Bali's stunning landscapes. Bali Fun Rally Team Building will take you on an exciting journey across the island. Each stop provides an opportunity for your team to participate in engaging team-building activities.
Also, the Bali Rally Adventure guarantees unique moments at every turn, whether you're racing through lush jungles, crossing tough terrain, or strolling along tranquil coasts.
Bali Group Organizer stands out as the ideal partner for planning a Bali Fun Rally Team Building activity. We ensure that your journey is not only exciting but also safe and well-executed. It is because of our deep knowledge of the island and decades of event planning experience. Our professional team handles all logistics, allowing you to focus on establishing teamwork and having fun.
What to Expect on Bali Fun Rally Team Building?
During your Bali Fun Rally Team Building adventure, you can expect:
a). Thrilling Team Challenges: Engage in a variety of team challenges at carefully selected stop points that will test your team's communication, problem-solving, and leadership skills.
b). Breathtaking Scenery: Immerse yourself in Bali's stunning natural beauty as you navigate diverse landscapes, from rice terraces to volcanic terrain.
Safety and Terms
Your safety is our top priority. Our experienced guides and well-maintained vehicles ensure a secure journey. Please refer to our terms and conditions for detailed information on safety measures and other essential guidelines.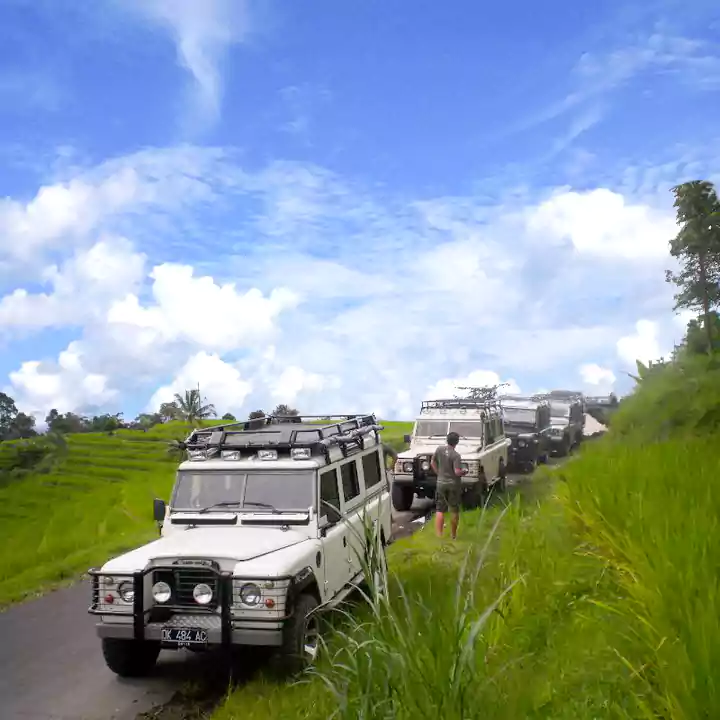 Total number of participants: 30 people (minimum)

Total of games: 6 - 7 games

Duration of games: 5 - 9 hours

Venue: Various

Time: Morning or Afternoon
What to Bring?
To make the most of your Bali Fun Rally Team Building experience, remember to pack:
Sun Protection: Sunscreen and a hat to shield you from Bali's tropical sun.
Capture Memories: Don't forget your camera to document the adventure and create lasting memories.
Comfortable Attire: Wear comfortable sports shoes or sandals for ease of movement.
Stay Cool: Dress in lightweight, breathable T-shirts to stay comfortable during the journey.
Souvenir Budget: Bring some extra cash for souvenir shopping along the way.
Phase – 1: GROUPING

Group Assembling
Ice Breaking with 2 – 3 games
Grouping and leader appointing, including yell–yell

Phase - 2: Fun RALLY GAMES

Post 1 ( Exclusive games)
Post 2 ( Exclusive games)
The Post 3 ( Exclusive games)
LUNCH
Post 4 ( Exclusive games)
Post 5 ( Exclusive games)
The Post 6 ( Exclusive games)

Phase – 4: CLOSING GAMES
Phase – 5: EVALUATION

Evaluation session and announce the winner

Transfer back to your hotel