Garden Team Building and Rafting is a fantastic full-day offsite adventure for groups visiting Bali. Bali Group Organizer specializes in providing comprehensive team-building experiences and has over 25 years of event management experience. We have created the ideal combination of offsite activities in a serene garden environment and exhilarating rafting adventures at Ayung River in Ubud.
Explore the Garden Team Building and Rafting Adventure
A Day of Adventure and Team Bonding
Our Garden Team Building and Rafting package provides an appropriate blend of team-building activities. The team building will take place in beautiful tropical gardens, while the rafting experience will take you down Bali's scenic rivers. The day starts with team-building exercises in a large garden area. It will improve your teamwork, communication, and leadership abilities. Later, take a thrilling rafting trip across Bali's pristine waters. It will make your team's bonding experience more exciting.
Versatility in Garden Locations
One of the most surprising aspects of our Garden Team Building and Rafting trip is its adaptability. We can host this unique event in the garden near the rafting area. Meanwhile, the Bali Group Organizer handles the essential permits and ensures a smooth trip. Furthermore, we will begin this package activity in the morning with team-building activities. After that, lunch at a restaurant before embarking on a rafting trip.
Safety, Health, and Preparedness
Safety is our top priority. We undertake extensive safety evaluations, supply experienced facilitators, and outfit your team with all necessary safety equipment. Furthermore, we highlight the importance of health and fitness during your Bali Beach Team Building event. Please bring your sunscreen, hat, and sports shirt to protect yourself from the sun. Meanwhile, we will serve refreshments to avoid the effects of dehydration.
Please keep in mind that this experience may not be suited for the following people: those over the age of 60, those with heart issues, and those with disabilities. Our first goal is the safety of all participants. During the rafting segment, we provide important safety equipment such as life jackets, helmets, expert river guides, paddles, and rubber boats for your peace of mind.
What to Expect During Garden Team Building?
During your Garden Team Building experience, your team will:
Engage in Fun Games: Participate in exciting beach games and challenges to build trust, communication, and problem-solving skills.
Promote Creativity: Encourage creative thinking through team-building exercises that require innovation and adaptability.
Strengthen Bonds: Foster stronger connections among team members as they collaborate, support, and motivate each other.
Enhance Leadership: Identify emerging leaders within your team and develop their leadership skills.
Achieve Common Goals: Work together to achieve shared objectives, mirroring the dynamics of your workplace.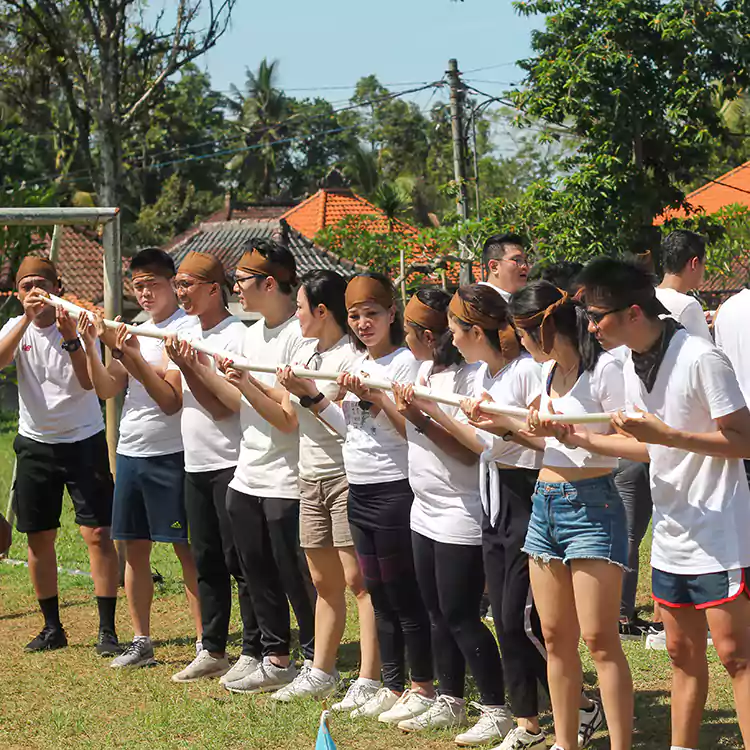 Total number of participants: 25 people (minimum)

Total of games: 6 - 7 games

Duration of games: 2,5 - 3 hours

Venue: Beach

Time: Morning or Afternoon
Life Jacket ad Helmet Rental

Paddle and Rubber Boat

Experienced River Guide per boat

Shower Facilities includes soap and towel

Medical Insurance
Phase – 1: GROUPING

Group Assembling
Ice Breaking with 2 – 3 games
Grouping and leader appointing, including yell–yell

Phase - 2: COMPETITION GAMES

Race Game 1
Race Game 2
The Race Game 3
The Race Game 4

BREAK TIME

Phase – 3: OLYMPIC GAMES

Olympic Game 1
Olympic Game 2
The Olympic Games 3

Phase – 4: CLOSING GAMES
Phase – 5: EVALUATION

Evaluation session and announce the winner