Our Denpasar City Tour will take you on an exciting half-day tour through Denpasar's bustling streets. This tour is a testament to Bali's rich cultural diversity, regardless of your preference for the morning sun or the afternoon breeze. The Denpasar City Tour, one of the most well-known tours on the island, gives visitors a peek into the centre of Bali's capital, a vibrant, historically rich city.
Discover the heart of Denpasar, the capital of Bali, with this engaging half-day tour. So start your day off right with the Denpasar City Tour. It is a treasured occasion that highlights the historical and cultural assets of the city. The voyage will include vibrant art centres, fascinating museums, and bustling marketplaces. Because of this, every location along the way provides a different viewpoint on Bali's cultural diversity.
Badung Traditional Market
Your adventure kicks off at the Badung Traditional Market. It is a bustling hub of activity where locals gather to buy and sell a kaleidoscope of goods. We will navigate through vibrant stalls and inhale the fragrant scents of spices and flowers. Moreover, we will engage with the lively spirit of traditional Balinese market culture.
Bali Museum
Next on the itinerary is the Bali Museum. It is a cultural gem that preserves the island's history and artistic heritage. We will explore its exhibits, which showcase artefacts, textiles, and sculptures, providing a captivating narrative of Bali's rich past and vibrant present.
Bali Art Center
The tour concludes at the Bali Art Center, a haven for appreciating the island's artistic prowess. Marvel at traditional and contemporary Balinese art, displayed in a setting that reflects the island's dedication to creativity and expression.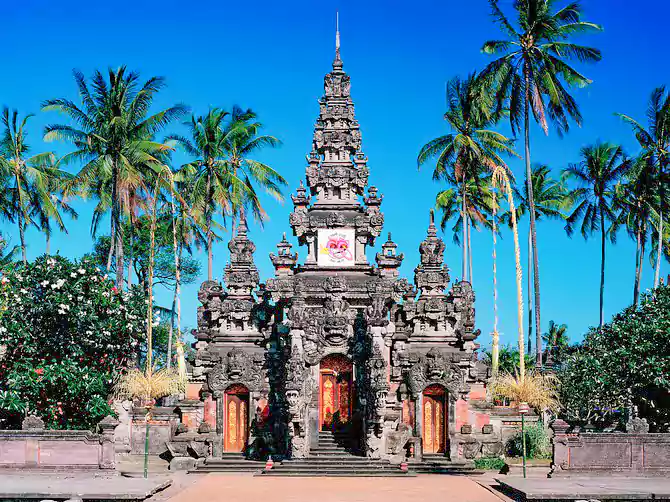 Tour Itinerary:
07:00: Pick up at the hotel
08:15: Visit Badung Traditional Market
09:30: Explore the exhibits at Bali Museum
10:30: Immerse in the creativity of Bali Art Center
11:30: Head back to the hotel
12:30: Arrive at the hotel
Terms and Conditions:
This tour is valid for group bookings only. Individual travellers are recommended to explore Bali with Bali Star Island.
Advance booking is advised for a seamless experience.
Weather conditions may impact the tour itinerary. In such cases, suitable alternatives will be arranged.
CONTACT US to Get a QUOTE