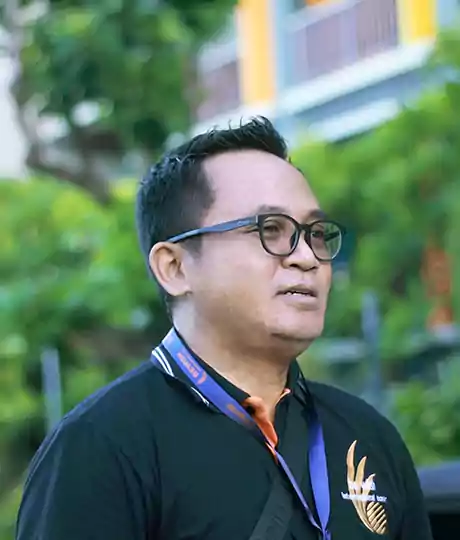 I Ketut Suparta
Event Director
Phone :

Email :

Website :
Skills :

Event Management

Address Info :

Jl. Raya Kampus Udayana (Poh Gading Timur) no 10 A, Jimbaran, Kuta Selatan
Personal Experiences
I Ketut Suparta's journey as an Event Director at Bali Group Organizer reflects his extraordinary professional development. His story began in 1992 as a receptionist at Grand Mirage Resort, where his hard work and dedication saw him quickly progress through the ranks. He advanced from receptionist to reception supervisor in four years, then to reservation manager for two years, and finally to front office manager.
I Ketut Suparta left the five-star world in 2003 to join PT. Bewish International Tour, motivated by his desire for advancement. Here, he began a new chapter in his career, playing an essential part in determining the company's evolution. In 2010, he formed Bali Group Organizer, a branch that has since become a cornerstone of exceptional event-organizing experiences. His trajectory exemplifies determination, expertise, and dedication to realize remarkable visions.
Event Management Experiences
I Ketut Suparta's experience as an Event Director at Bali Group Organizer is enhanced by his diversified management skills. His management career began as a Supervisor at Grand Mirage Resort, and his commitment to improving his abilities led him to enroll in various management training programs. These included empowerment, yield, marketing, communication, and guest service management, demonstrating his dedication to overall excellence.
His innovative energy shined through when he joined PT. Bewish International Tour, where he drove a move from traditional to internet marketing. He transformed the company's outreach by creating websites and strategically utilizing social media. His superb managerial abilities are further demonstrated by his effectiveness in coordinating large-scale group activities ranging from local meetings to worldwide spectacles. The varied managerial journey of I Ketut Suparta offers a portrait of adaptation, creativity, and the pursuit of excellence in event organizing.
Mainstay Capability
Strategic Planning

Effective Communication

Innovative Marketing

Experienced Management

Global Event Handling

Resourceful Problem Solving

Client-Centric Approach