Bali VW Safari Treasure Hunt Team Building is an exciting team building program driving on a memorable Volkswagen vehicle to explore the pure natures of Bali includes the traditional Balinese village and famous tourist destination on this island of God. Bali Group Organizer provides the fantastic team building program combining the fun trips using VW Safari and Treasure Hunt Games which are completely exciting with attractive games created by our creator teams. Our games are exclusively designed to encourage your group participants to involve each game and enjoy the memorable journey to discover the beautiful nature, the daily social life of Balinese people and visit the famous tourist destinations. Meanwhile, our games are aiming to create strong and solid teamwork, improve communication skills, working environments, leadership and focus on target or goals.
VW Safari Bali Nature Explorer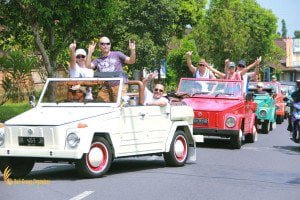 Our VW Safari Program combined with Treasure Hunt Games is an exclusive program to encourage group participants into the fantastic trip and enjoy the games while exploring the pure natures of Bali. There will be several stop points to seek the hidden target to break the clue given by our professional game master and each group team must focus on goals outlined in the games. It is perfect sightseeing trips for those of you who have worked seriously in bustle city and want to get fresh while enjoying the outdoor training of character building through our Treasure Hunt Games. We invite you to join our program and please be a part of the team to complete the challenge games.
Information about Bali VW Safari Treasure Hunt
Total of participant : 30 people – minimum
Total of games : 6 – 7 games
Duration of trips : 8 – 9 hours
Venue : various
Time : Morning/night
Systematical of Team Building Games
Phase – 1 : GROUPING

Group Assembling
Ice Breaking with 2 – 3 games
Grouping and leader appointing including yell – yell

Phase – 2 : TREASURE HUNT GAMES

Post 1 ( Exclusive games)
Post 2 ( Exclusive games)
On Post 3 ( Exclusive games)
LUNCH
Post 4 ( Exclusive games)
Post 5 ( Exclusive games)
On Post 6 ( Exclusive games)

The Phase – 3 : CLOSING GAMES
Phase – 4 : EVALUATION

Evaluation session and announce the winner

Transfer back to your hotel
PHOTO GALLERY – Treasure hunt team building games
Our Group Experiences
Many companies have given us the trust to provide this service. With pride, we have provided the best service for each of our customers so that they can realize group events perfectly and successfully. Likewise, you can see their experiences on our site, that a fun Bali treasure hunt team building games.
Another Services
Bali event organizer Services and Products
Student Trip and CSR program, instead of Bali VW safari