Bali Beyond Travel Fair – Bali International Event 2016
Bali Beyond Travel Fair 2016 has successfully run in Bali within 4 days. The island is a small island of Archipelago Indonesia that famous as a tourist destination. This year will be held an International event in this Paradise Island on 22 of June til 26 of June 2016 at Bali Nusa Dua Convention Center (BNDCC), Nusadua, Badung Regency, Bali-Indonesia. Bali Beyond Travel Fair is an Professional event that's joined by many delegations from tourism industry around the world. This event will be a good opportunity for improving your career in tourism business. You can to join as Seller, Buyer, or Visitor in this event. Bali Beyond Travel Fair (BBTF) absolutely has their schedule for you to know. This is the schedule of this event if you are interesting to join in this event. Furthermore, you may see details at this link – BALI NEWS.
Bali Beyond Travel Fair Schedule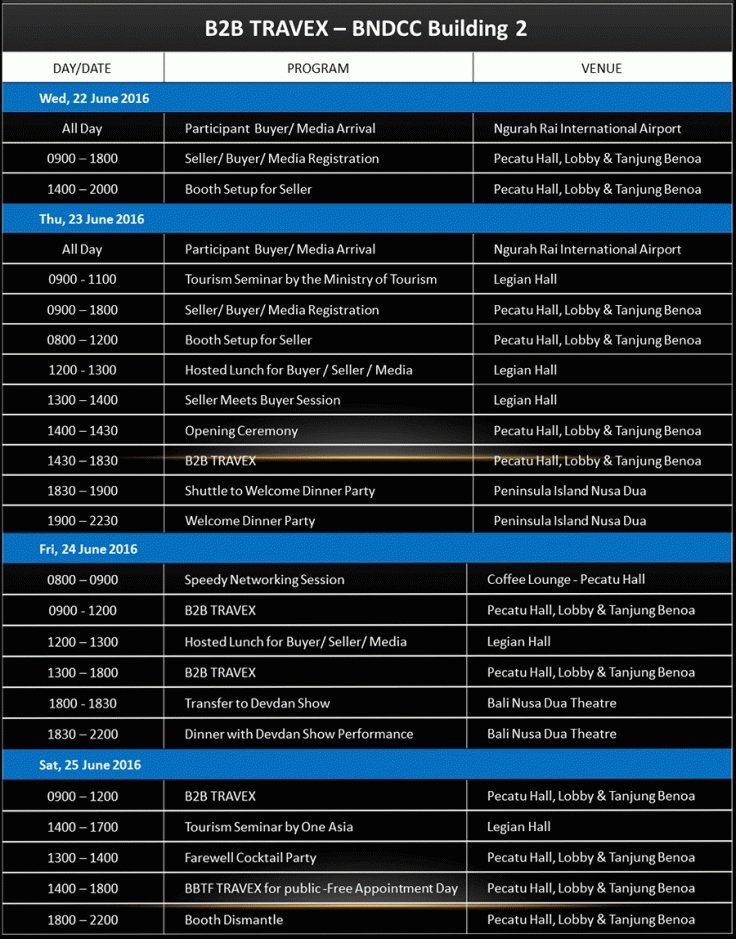 This Event will give a good chance for you to promote your product or looking and buying or make a deal with the other professional corporate from around the world. There will be more than 100 professional tourism industry being the seller in this event, and you will be able to see and make any good deal with them in this event. There is already more than 200 buyer in this event from professional tourism industries around the world will join in this event. BBTF visitors, buyers, and sellers are come from any professional company, this is the profile and the schedule of visitors, buyers, and sellers in this event.
BBTF 2016 Visitor Profile & Schedule:
Travel wholesalers
Retailers and agents
Convention and incentive organizers
Gouvernment and furthermore
Dates and Times and furthermore
Date
Activity
Day 3 : Thursday, 23 June 2016
10.00 am – 12.00 am : Visitor Registration
02.00 pm – 06.00 pm : Onsite Travex
Day 4 : Friday, 24 June 2016
09.00 am – 12.00 am : Visitor Registration
10.00 am – 12.00 am : Onsite Travex
12.00 am – 01.30 pm : Hosted Lunch
01.30 pm – 06.00 pm : Onsite Travex
Day 5 : Saturday, 25 June 2015
09.00 am – 12.00 am : Visitor Registration
10.00 am – 12.00 am : Onsite Travex
02.00 am – 06.00 pm : Free Appointment Day
Administration fee
An administration fee for visitor is IDR. 1,000,000/day/person,  inclusive of:
Admission to Travex per day
Access to onsite appointments and furthermore
Entry to Lunch on 23 or 24 June 2016
Complimentary daily shuttles to/from official hotels, venue and official functions and furthermore
Special rates for post tours and furthermore
Dress Code
All Visitors must wear business attire during BBTF events at Bali Nusa Dua Convention Center
BBTF Buyers Profile & Schedule:
All registrants must undergo accreditation before confirmation as a Hosted Buyer
Travel wholesalers
Retailers and agents and furthermore
Convention and incentive organizers and furthermore
Other Tourism related and furthermore
| | | |
| --- | --- | --- |
| DATE/TIME | PROGRAM | VENUE |
| 22 June 2016 |   |   |
| All Day | Participant  Buyer Arrival | Ngurah Rai Airport |
| 10:00-18:00 | Buyer Registration | BNDCC |
| 23 June 2016 |   |   |
| Morning – 12:00 | Buyer Arrival | Ngurah Rai Airport |
| 12:30 – 13:30 | Seller Meets Buyer Session | Legian Hall |
| 13:30 – 14:00 | Opening Ceremony | BNDCC |
| 04:00 – 18:00 | TRAVEX | Tanjung Benoa & Pecatu Hall |
| 18:00 -18:30 | Shuttle to Welcome Diner | BNDCC Foyer |
| 18:30 -22:30 | Welcome Diner Party | Nusa Dua |
| 24 June 2016 |   |   |
| 09:00 – 12:00 | TRAVEX | Tanjung Benoa & Pecatu Hall |
| 12:00 – 13:00 | Hosted Lunch | Legian Hall |
| 13:00 – 18:00 | TRAVEX | Tanjung Benoa & Pecatu Hall |
| 25 June 2016 |   |   |
| 09:00 -12:00 | TRAVEX | Tanjung Benoa & Pecatu Hall |
| 12:00 -13:00 | Hosted Lunch | Legian Hall |
| 13:00 – 14:00 | Closing Cocktail Party | BNDCC |
| 14:30 – 18:00 | Public Session and furthermore | Tanjung Benoa & Pecatu Hall |
|   | END PROGRAM |   |
Buyer Entitlement:
Admission to Travex and furthermore
Access to pre-scheduled and onsite appointment
Entry to Opening Ceremonies,Welcome party, Lunch and furthermore
Complimentary airport transfers to official hotels at stipulated timing
Complimentary daily shuttles to/from official hotels, venue and official functions and furthermore
An administrative fee of IDR. 2,000,000 for International Buyer & IDR. 500,000 for National Buyer and NON REFUNDABLE
Payment by credit card will added a surcharge 4 % (master card & visa logo only) and furthermore
Hosted Buyer Privileges and furthermore
Platinum Buyers receive:
Reimbursement for economy class flight tickets (subject to a cap amount which will be advised)* and reimburse on 25 June 2016 at 06.30 pm and furthermore
Complimentary accommodation period 22 – 26 June 2016 (4 nights) with breakfast and furthermore
Special rates for post tours and furthermore
Gold Buyers* receive:
Complimentary accommodation period 22 – 26 June 2016 (4 nights) with breakfast
Special rates for post tours and furthermore
Hosted Buyer Mandatory and furthermore
Platinum Buyers must fulfilling 100% Appointments Travex (36 Appointments) and furthermore
Special Gold Buyers must fulfilling 80% Appointments Travex (29 Appointments) and furthermore
Dress Code
All Buyers must wear business attire during BBTF events at Bali Nusa Dua Convention Center
BBTF Seller Schedule:
| | | |
| --- | --- | --- |
| DAY/DATE | PROGRAM | VENUE |
| 22 June 2016 |   |   |
| ALL DAY | Seller Arrival | Ngurah Rai Airport |
| 10:00 – 18:00 | Seller Registration | BNDCC |
| 14:00 – 22:00 | Booth Setup for Seller | Tanjung Benoa & Pecatu Hall |
| 23 June 2016 |   |   |
| 09:00 – 18:00 | Seller  Registration | BNDCC |
| 09:00 – 12:00 | Seller Booth Set Up | Tanjung Benoa & Pecatu Hall |
| 12:30 -13:30 | Seller meet Buyer Session | Legian Hall |
| 13:30 -14:00 | Opening Ceremony | BNDCC |
| 14:00 -1800 | TRAVEX | Tanjung Benoa & Pecatu Hall |
| 18:00 – 18:30 | Shuttle to Welcome Diner | BNDCC Foyer |
| 18:30 – 22:30 | Welcome Diner | Nusa Dua |
| 24 June 2016 |   |   |
| 09:00 -12:00 | TRAVEX | Tanjung Benoa & Pecatu Hall |
| 12:00 -13:00 | Hosted Lunch | Legian Hall |
| 13:00 – 18:00 | TRAVEX | Tanjung Benoa & Pecatu Hall |
| 25 June 2015 |   |   |
| 09:00 -12:00 | TRAVEX | Tanjung Benoa & Pecatu Hall |
| 12:00 – 13:00 | Hosted Lunch | Legian Hall |
| 13:00 – 14:00 | Closing Coctail Session | BNDCC |
| 14:30 – 18:00 | Public Session and furthermore | Tanjung Benoa & Pecatu Hall |
| 18:30 – 22:00 | Booth Dismantling and furthermore | Tanjung Benoa & Pecatu Hall |
PHOTO GALLERY
Another Services
Bali event organizer Services and Products
Student Trip and CSR program