| | |
| --- | --- |
| Event Date | 15 – 21 January 2011 |
| Customer | ACSI Singapore |
| Category | Educational Tour |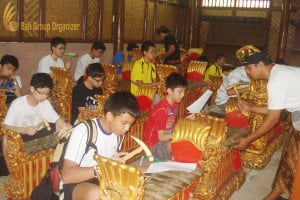 Group Event History
Bali Group Organizer, a MICE division of Bali Star Island, expertly planned ACSI Singapore's student excursions to Bali Island. Our committed Creator Teams delivered an exciting and unforgettable experience that was precisely in line with both student and school criteria with a 6-night, 7-day program that was carefully planned. ACSI's positive experience working with us has won them a spot on our list of references, demonstrating our dedication to providing top-notch service. Consider using our services to create your own unforgettable experiences.
Agenda of Bali Student Tours for ACSI Singapore
DAY 1 – ARRIVAL
As the journey begins at Denpasar Airport, a gracious ambiance of hospitality envelops the scene, courtesy of our dedicated team. Operating seamlessly from within the airport, we guide the group through immigration and customs with finesse, ultimately leading them to the awaiting bus. Swiftly transitioning from the aviation hub, we embark on an efficient route to the hotel, allowing the students to unwind and rejuvenate after their travels.
DAY 2 – BALINESE CULTURE LESSON and KINTAMANI
We introduce students to our unique heritage by immersing them in fascinating Balinese culture lessons. They enthusiastically accept the teachings and engage in traditional Balinese cultural activities. After a lovely lunch, we continued to Kintamani's mountainous realm, where we spent the night after a memorable evening.
DAY 3 – BATUR MOUNT CLIMBING AND CHARITY
Get up early and have a cup of coffee or tea before starting an energizing climb up Bali's most active volcano. Our group, led by experienced local climbers, completes the ascent in 45 minutes, arriving at the peak in time to witness an incredible sunrise. Enjoy the fantastic view of the lake and surroundings. A sincere charitable initiative is the next step in our path.
DAY 4 – DOLPHIN WATCHING, WEAVING AND FARMING
Our early morning begins with a typical dolphin-watching excursion at Lovina Beach before we go on a beautiful outdoor adventure. We explore the cultural fabric with trips to a weaving center and a hands-on rice farming adventure in Tabanan after a filling breakfast at the hotel. Every student actively participates in this real-world agricultural experience, from planting through harvesting.
DAY 5 – MARINE WATER SPORT
Students passionately participate in exciting water activities, from glass-bottom boat trips and turtle island visits to banana boat rides and snorkeling. These thrilling activities take place on the breathtaking coastline of Tanjung Benoa, which is known as Bali's top water sports destination.
DAY 6 – ELEPHANT SAFARI RIDE AND RAFTING
As they travel to Ubud, the students enjoy the rare chance to ride magnificent elephants on a safari in the park. This experience continues as we go down the Ayung River, where white-water rafting thrills await. During this exhilarating 2-hour expedition, they can explore 8 kilometers of breathtaking river terrain.
DAY 7 – MANGROVE TOUR AND FLY BACK TO SINGAPORE
The mangrove forest, situated close to the airport, is open for students to explore on their final day in Bali. They enter the forest's center on an enjoyable journey over wooden paths, where they find diverse plants and fauna thriving in their natural habitat.