| | |
| --- | --- |
| Event Date | 14 January 2012 |
| Customer | Fortinet Pte Ltd |
| Category | Incentive Travel |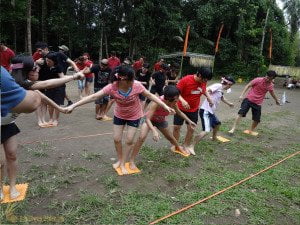 Group Event History
Fortinet Pte Ltd is one of our customers participating in our thrilling team-building event, including rafting and sightseeing. This group had 31 individuals, the majority of whom were Asian – Pacific. Furthermore, the party was having fun activities led by our game master, completing many selected games on the team building program, which was followed by a thrilling experience on the gorgeous Ayung River in Ubud for Rafting Adventure and finished with touring Tanah Lot. Even though it rained heavily during the last visit to Tanah Lot, this program was engaging and fun. Fortinet is one of our successful customers, and it has also become one of our group references in 2012 for your consideration in using our services.
Garden Team Building Activity
The Team Building Program is a fantastic outdoor activity that includes various fun games and competitions. Furthermore, it proposes establishing solid teamwork and strengthening each participant's characteristics. We also encourage them to adopt a new work attitude, improve communication, and do other things. Several games were assigned to the group, including ice breaking, balloon transfer, magic carpet, spider net, water pyramid, and toxic waste.
White Water Rafting
River Rafting is the next fascinating event that encourages people to enjoy the excellent water adventure of exploring an 8-kilometer length of the Ayung River by paddling through three rapid levels. It was a fantastic event that lasted 2 hours on the river and was followed by a gourmet buffet meal at the end of the rafting.