| | |
| --- | --- |
| Event Date | 12 May 2018 |
| Customer | AT Kearney Group |
| Category | Incentive Travel |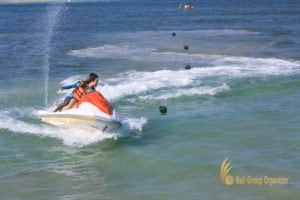 AT Kearney Group Group Event History
A.T. Kearney Pte Ltd is an American global management consulting firm that appointed Bali Group Organizer to arrange beach activities. We have taken them to enjoy the fantastic water sports and beach activities. Parts of the group participants took a turtle island tour using a glass bottom boat to discover the conservation of the turtle. Meanwhile, the other participants enjoyed water sports such as Jet Ski, sea walking, banana boat rides, and donut rides. During their incentive trip to Bali, they wanted these activities, which came with 60 people. Mr. Calvin Lim is the leader of this group, and he has worked with Ketut – the event director of Bali Group Organizer, to arrange this fantastic activity.
Beach Games
Some water sports activities can be combined with the challenge of games such as Jet Ski, Banana Boat Ride, and Sea Walker. We have exclusively designed the beach games for A.T. Kearney Group and divided them into several small teams to get the same access. It took them into the fantastic experience to enjoy both games and water sports activities. Also, we have drawn the assessment for each game into our scoreboard to determine the group winner.
Group Experience on Beach Activities
The day of their activities is a clear day despite a bit of low tide when the group arrives. However, we can still play games on the water with several activities. Meanwhile, seawater comes up slowly, making them more enthusiastic about beach activities. After the match, we safely dropped them back at the hotel.