| | |
| --- | --- |
| Event Date | 23 January 2015 |
| Customer | BDA China |
| Category | Incentive Travel |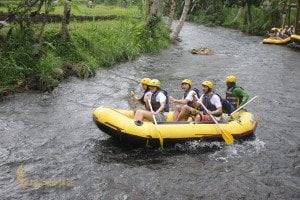 BDA China Group Event History
BDA China Ltd, one of our clients, and their 95 employees enjoy a rafting adventure on their Incentive trip to Bali. In addition, Bali Group Organizer has created a unique team-building activity by combining a bicycle treasure search and a rafting experience. This event is held in the Karangasem Regency. Meanwhile, they are having fun rafting on the Telaga Waja River. This fantastic adventure begins with picking them up at the hotel and dropping them off at the cycling starting point. Following that, we begin the thrilling experience of cycling while participating in a treasure hunt team-building exercise. We continued our rafting trip by exploring a 12 km magnificent river with three rapid levels.
Bali Cycling Starting Point
When BDA China Group arrives at the cycling start point, they engage in team-building activities. The fantastic experience begins with using safety equipment before engaging in bike activities in Karangasem Regency.
BDA China Cycling Treasure Hunt Team Building Activity
They enjoyed riding through traditional Balinese villages, wild nature, and bamboo forests. The treasure search game adds to the fun of this event. They are challenged to find treasure in a variety of locations. Playing game challenges in groups is the foundation of their success in reaching goals.
Amazing Race Game on Team Building Activities
Amazing race games are thrilling games that require teamwork to complete. Bali Group Organizer has created a range of exciting activities between their bicycle adventure journeys.
Bali Rafting at Telaga Waja River
After lunch, everyone headed to the rafting start point. It's time to embark on an adventure down the 12-kilometer-long river with three rapid levels. They row the boat with an expert river guide to experience the thrill of the rafting trip. So it's an enjoyable experience. Similarly, other corporate companies may incorporate a similar agenda in an incentive trip to Bali.