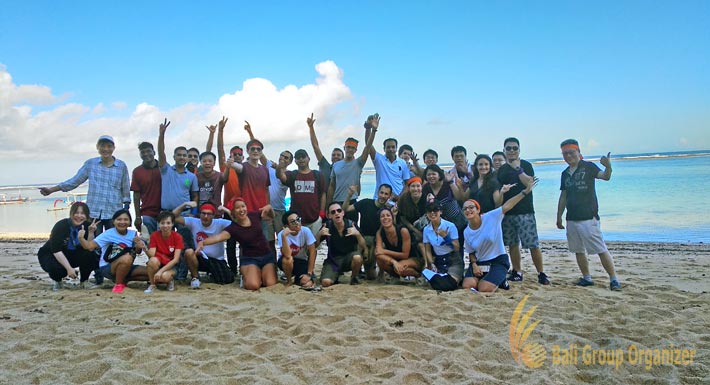 | | |
| --- | --- |
| Event Date | 21 May 2019 |
| Customer | Edenred Pte LTD |
| Category | Incentive Travel |
Edenred Group Event
Edenred Group, a Singapore-based customer relationship management (CRM) firm, recently visited Bali for corporate incentive activities. They arrived with 32 participants from different countries on a business trip. Meanwhile, they appointed us to manage their offsite events while on the island of the gods. Furthermore, we have organized an amazing team building activity with the subject VW Safari Treasure Hunt Uluwatu Expedition. Furthermore, this event took place on 21 May 2019, departing from the Courtyard Hotel Nusa Dua. This activity has also provided them with an unique and classic experience. This is because we meticulously planned the event agenda to ensure that everything runs smoothly and productively.
Furthermore, this group from Edenred Pte Ltd can serve as an inspiration for you while you plan an incentive group agenda in Bali. Likewise, we offer a wide range of team development events, excursions, adventures, CSR, conferences, and other group activities.
Bali VW Safari Treasure Hunt Uluwatu Expedition
This is the most popular team-building activity in Bali. This is great for corporate groups doing incentive trips to Bali. Furthermore, people come from various agencies or nations to participate in an interesting and enjoyable activity. This practice, on the other hand, can promote great teamwork and happy connections.
Safety Briefing and Grouping Session
Before the VW Safari Treasure Hunt activities, we had a safety briefing and grouping session. We also did this activity in the parking lot of the Courtyard Hotel Nusa Dua. Following that, we allow them to show their group cheers before departing for Water Blow – Nusa Dua.
Treasure Hunt Game at Water Blow Nusa Dua
After a short convoy in the elite resort area of Nusa Dua, it was time for them to explore the Water Blow area. Furthermore, they must find a treasure in a beautiful green garden with a statue of Rama – Shinta stands majestically in this area. After finding it, they immediately finished the game prepared by our facilitator team to collect points. After that, we leave for the Pandawa beach.
Adventure Trip to Pandawa Beach
This sensation continues by exploring the limestone road with a dry forest surrounding it. This is an adventure experience by driving a Volkswagen vehicle that relaxes through beautiful nature. And also, this convoy experience using classic vehicles has brought them an adventure sensation in the 1970s.
Pandawa Beach Team Building
We continued to make convoys until we entered the Pandawa beach area. After that, all participants headed to a free area on the beach to do beach team building activities. We provide a surprising game to challenge them to collect coins in a short time. Next, we continue the journey to the coffee plantation and pass through villages and dry forests.
Visit Coffee Plantation and Uluwatu Temple
We visit an agrotourism to find various types of coffee plants that grow on the island of Bali. Besides that, each gets a challenge from a game that they have to complete while enjoying a coffee break. Next, we go to Uluwatu to complete the last mission and watch the phenomenal Kecak dance. After that, we go down to Kuta to have dinner together at a local restaurant. And finally, this event ended after taking them back to the hotel.