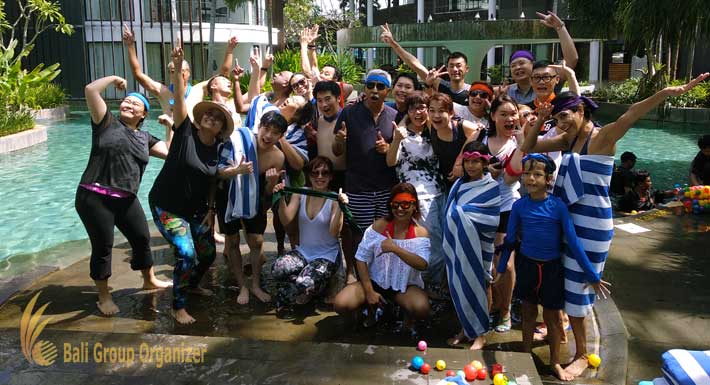 | | |
| --- | --- |
| Event Date | 19 May 2019 |
| Customer | Jacqui Terrance Family |
| Category | Family Travel |
Jacqui Terrance Family Group Event
Jacqui Terrance Family Group is a family group formed to commemorate Jacqui and Terrance's Bali hotel team-building event following their wedding ceremony. Furthermore, they appointed us to organize team-building activities at the Le Meridien Hotel Bali in Jimbaran. We have meticulously planned the event so that everything runs smoothly and successfully. Aside from that, team-building hotel activities have been an excellent experience for them. Furthermore, all participants were eager to participate in all of the games. In addition, team-building exercises can bring them together in a fun atmosphere at family gatherings.
In addition, family groups from Jacqui and Terrance and 50 guests attended the anniversary ceremony. Meanwhile, a similar activity was held in a hotel in Jimbaran on May 19, 2019. As a result, this event is quite exciting and has the potential to foster a sense of community among them. This might serve as a resource for those looking to hold team-building activities at hotels. Furthermore, you may readily locate our experience in providing similar activities on our website in 2019.
Bali Hotel Team Building at Le Meridien Hotel
We have a lot of expertise with team-building events at hotels. As a result, many people benefited from this exercise. One of them was team building for the Jacqui-Terrance family group.
Group Assembling for Ice-Breaking
The group gathered in a meeting room to get information and safety briefings before carrying out this activity. We provide comprehensive information to all participants, including ice-breaking games.
Hotel Treasure Hunt Team Building
After the ice-breaking session, each team carried out their mission armed with a clue. Furthermore, they spread to all corners of the hotel to find treasure and solve the problem. Uniquely, they found different games in each destination with various difficulties. So, it requires solid teamwork.
Swimming Pool Team Building
Team building activities in the swimming pool are events after the treasure hunt game. Previously, they had successfully swept away all the challenging games. And then, we give two challenges in the game in the swimming pool. Also, this was the closing game of the day, and all participants were satisfied and happy.