| | |
| --- | --- |
| Event Date | 09 August 2018 |
| Customer | Forest Indo Niaga |
| Category | Incentive Travel |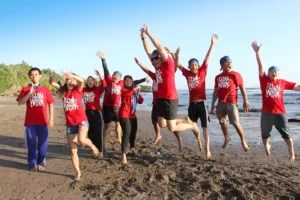 Forest Indo Niaga Group Event History
Forest Indo Niaga is a national company that held group team-building activities on the beach in Bali. This company initially focused on providing content for mobile users and cooperating with telecommunications operators in Indonesia and based in Jakarta. The company has appointed Bali Group Organizer to provide beach team building services to their staff and managers during a visit to Bali. Also, we have designed a team-building activity on a remote beach in the western part of the island of the gods. Furthermore, beach team-building activities are beneficial for them to build teamwork, foster morale and togetherness, and improve communication. So that later, it can increase productivity and achieve the right corporate goals efficiently and effectively. So, this kind of team-building activity will benefit companies in the future.
Furthermore, Forest Indo Niaga brought 31 people, all delighted to participate in this beach team-building activity. This activity took place on August 9, 2018, and can serve as a model for other group events we managed. Our dependable and experienced facilitators, as well as our expert game masters, oversee this activity.
Ice Breaking
We led all participants to gather and warm up with various games. So, they look excited, happy, and competitive, especially during grouping sessions.
Competition Game Phase
We jumped straight into the struggle phase after the warm-up session ended. Furthermore, we have given three games requiring struggle, strong teamwork, and good communication to win.
Olympic Game Phase
After the break, we continued by giving three types of games that use seawater. Each team has struggled and has seen an increase in their collaboration. This is great because our message arrived.