| | |
| --- | --- |
| Event Date | 11 October 2016 |
| Customer | The Freight Summit 2016 |
| Category | Incentive Travel |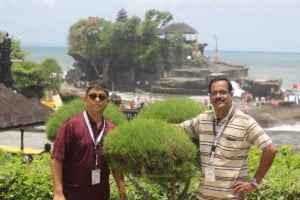 The Freight Summit 2016 Group Event History
The Freight Summit 2016 is one of our clients in October 2016. Furthermore, they joined the Half Day Tanah Lot Tour with 150 summit participants. Bali Group Organizer has designed the Tanah Lot Temple Tour for them. We start the tour by picking them up at The Stone Hotel Kuta using five buses. Tanah Lot is a beautiful Hindu temple set on the rock and encircled by the sea. This temple has a spectacular sea view panorama as a backdrop.
Furthermore, the Freight Summit is the first and leading open global networking conference. They provide a neutral networking platform to interact with multiple alliances, networks, logistics media, solution providers, etc. In addition, this group event is one of our customer's experiences with successfully handling and satisfactory record. And also become our group references for you before using our event services.
Half Day Tanah Lot Tour
Tanah Lot Tours are the exciting Bali Half Day Tours to visit the temple on the rock with a breathtaking view of the Indian Ocean. It is a spectacular sunset as a backdrop. The tours will explore the famous tourist destinations in Bali of Tanah Lot Temple. Meanwhile, the temple is above a big stone in the coastal periphery. It is a half-day tour with a private air-conditioning car transfer and a professional tour guide who always offers the best quality service.