| | |
| --- | --- |
| Event Date | 07 October 2016 |
| Customer | Livit |
| Category | Incentive Travel |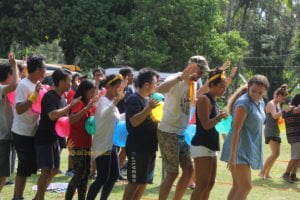 Livit Group Event History
Livit is one of our clients participating in Bali Treasure Hunt Cycling Garden Team Building events. They come with 30 employees, including top management. Bali Group Organizer created their Bali Treasure Hunt Cycling Garden Team Building activities. The festivities began when all participants arrived at the cycling starting site near Petang Village. It was exciting because most participants enjoyed biking and exploring the natural beauty along the tropical route. The tours visited a rice field, a picturesque Balinese village, and a restaurant for a buffet lunch.
We have placed various clues along the road that they must find. We previously put them into four groups in which they must compete. They must also find the next stop point and solve all team-building challenges. The clues eventually lead the participant to the treasure hunt key at the finish point. They had a fantastic adventure during their incentive trip to Bali and enjoyed the fun games. Furthermore, our team building training has significantly impacted them in developing the solid teamwork that Livit needs.
Bali Cycling Treasure Hunt Garden Team Building
One of the exciting Team team-building activities is the Bali Cycling Treasure Hunt Garden Team Building. We customized the game to fit the theme of the company trip. Meanwhile, we've created the ideal combination of Cycling Adventures, Treasure Hunt Games, and Garden Team Building. They have also had the opportunity to explore the beautiful village scenery of Bongkasa.
The cycling trip took them on a thrilling journey through green tropical plantations and rice fields.
Ice Breaking Session
Our game master delivers light games in this session before beginning bicycle adventure activities. They form the game cheerfully and get to know each other. As a result, this has a favorable impact on the next game's progress of togetherness.
Cycling Treasure Hunt
Our true adventure begins with riding a bike through traditional villages. The journey also takes them past beautiful rice fields and seeing the Balinese people's lives. They always give the visitor a charming smile as a standard of their hospitality. Meanwhile, our game master has given all of the group's clues. They must proceed to the site to discover the following clue. This is a task for each group while pedaling carefully.
Garden Team Building
This is a hybrid of our biking treasure hunt game programs. The Livit Group had an amazing race on a football court in a village. We offer a variety of games in the form of competitions. So, to win every game, each group must be able to work hard, efficiently, and successfully.