| | |
| --- | --- |
| Event Date | 16 June 2016 |
| Customer | Hotelbeds |
| Category | Incentive Travel |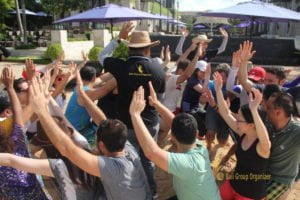 Hotelbeds Group Event History
Hotelbeds Group, one of the world's biggest travel technology companies, brought 27 employees to Bali for an incentive trip. During their journey, they have cooperated with a Bali Group Organizer to plan a Beach Team team-building activity. Furthermore, we have successfully delivered unique Beach team-building events at Tanjung Benoa Beach. All participants were delighted to participate in this activity, providing them with enjoyment, learning, and togetherness. Furthermore, a significant consequence of our team development is the creation of solid teamwork to attain their goals.
Activities on Tanjung Benoa Beach
The group enjoyed participating in Beach Team team-building activities at Sakala Hotel Beach. The weather was perfect, and there was a long white sandy beach to play the games. We have run eight beach team-building games that are completely enjoyable, educational, and safe. Our Team Building Programs for Hotelbeds aim to inspire group participants to learn by doing. Also, they can improve communication skills, leadership, discipline, self-confidence, and much more. Moreover, it can establish solid teamwork to boost productivity and achieve goals. As is usual, we offer a three-phase gaming session that comprises Ice Breaking, Competition Race, and Olympic Phase.
Ice Breaking Session
This is an introductory session to promote and warm the mood. It also helps to form a small group to compete against other groups. In this lesson, our Game Master delivers training using three different sorts of games.
Amazing Race Games
Our Game Master assigns challenges to all groups to complete the game effectively and swiftly. In this session, speed and strong teamwork are essential. They must participate in these enjoyable race games. However, the importance of achieving goals should not be overlooked.
Olympic Game
This is a water play session full of challenges and sacrifice. Each group must complete each task by fighting as hard as possible. The key to winning is the willingness to sacrifice to achieve the primary goal.