| | |
| --- | --- |
| Event Date | 17 January 2018 |
| Customer | J&T Express Jakarta |
| Category | Incentive Travel |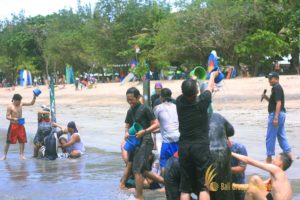 J&T Express Jakarta Group Event History
J&T Express is one of Indonesia's largest expedition and delivery firms. The company sent 20 employees on incentive trips to Bali and hired Bali Group Organizer to plan an offsite activity. In addition, we are pleased to offer our beach team-building activity in Kuta Beach. Our beach team building has provided them with a pleasant memory while they seek to enhance their communication skills and solidify their teamwork. We inspired them with fantastic enthusiasm, challenges, and competition in the form of fun games. Meanwhile, our game master skillfully guides them through the games completed in 3 hours.
Ice Breaking Session
We invite the J&T Express group participant to join our ice-breaking after arriving on the spot. They come with 20 young people with full energy power for fun beach games. We start to lead the game through 3 fun ice-breakers.
Competition Phase
It is coming more enthusiasts after the last ice-breaking session. We have provided four great challenge games in this competition phase. They have competed with each other to get the goal setting led by our professional games master and well-trained facilitators.
Olympic Phase
After completing the competition phase, we encourage them to join the fantastic Olympic Games. We have provided two fun games using seawater.
Closing of Beach Team Building
After the games have been done, we provide the evaluation for the J&T Express group during the game activities. They have made good progress on teamwork, communication, motivation, and focus on goals. We also give them a review of their weakness for their improvement. Therefore, our beach team building is a proper response for a company with similar experiences against the employee.