| | |
| --- | --- |
| Event Date | 11 December 2016 |
| Customer | PT. Warisan Aurindo |
| Category | Incentive Travel |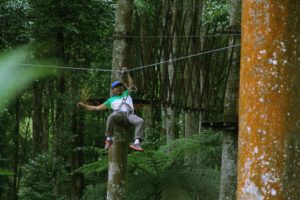 PT. Warisan Aurindo Second Group Event History
PT. Warisan Aurindo Group was returned to use our service for the second offsite activity in Bali. They come with the staff from Banyuwangi and Bali and the management team. Again, they have appointed the Bali Group Organizer's team to handle the activities for this second event in Bedugul Bali. Furthermore, they bring 55 manager staff from both offices, including Bali and Banyuwangi, for a one-day garden team building and Bali Treetop Adventure.
In line with this, we have assigned fun activities to combine two fantastic activities within a day and bring them into significant challenges. We held these events at Bali Botanical Garden in Bedugul, around 2.5 hours from Bali's International Airport.
We provided them with exciting ice-breaking games and continued with four competitions. After breaking, we continued for the Olympic game phase with two games and then continued for Treetop Adventure.
Ice Breaking – Bali Garden Team Building
In this ice-breaking session, our game master delivers refreshments. They played three different starting games from the previous season. However, the game's goal remains to warm up the group participants and give the spirit to them.
Competition Game – Bali Garden Team Building
The game is also different in this competition phase. In the team-building garden event, we present several enjoyable and demanding games. All of the participants were excited to play this team-building activity.
Face to Fare Phase at Bali Treetop Adventure Park
The outstanding challenges at Bali Treetop Adventure Park are available to all participants. We have provided five circuits out of the seven accessible at this park. It ultimately provides them with excellent challenges and survival opportunities to follow all Green, Yellow, Orange, Red, and Black circuits.
Olympic Phase in Bali Garden Team Building
Our game master has returned to provide a different game during this Olympic phase. This phase also serves as the event's final agenda.
If you want to conduct an event like this, please get in touch with our team for a quote.