| | |
| --- | --- |
| Event Date | 18 July 2019 |
| Customer | Lundbeck |
| Category | Incentive Travel |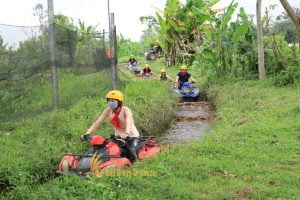 Lundbeck Group Event
Lundbeck Group is a Danish multinational pharmaceutical firm that has chosen us to plan their offsite activities in Bali. For their workplace incentive programs, they brought 53 individuals from various nations. The main agenda is the meeting, and the difference in this incentive trip is the outdoor activity. Furthermore, they have delegated us the task of organizing their specific plan. We have created two fascinating activity activities that are conveniently placed near Ubud. As a result, each participant can select one of the two possibilities. Both actions, however, contain the same principle in the form of treasure hunt team building.
Our team building program is genuinely positively impacting each participant and the company in particular. For that reason, the experience of the Lundbeck Group can be a reference for you to organize group events in Bali.
Bali Team Building Activities
We have offered the best team-building activities for Lundbeck Group since the beginning of the conversation. Finally, they have determined two challenging adrenaline activities packaged into a team-building exercise.
ATV Treasure Hunt Team Building
ATV Treasure Hunt is a team-building activity to find treasure in the wild-riding vehicles on all terrain. We begin this adventure with a short garden team building to heat and stretch their muscles before jumping into the wild. Some challenging games they must complete before riding an ATV. After that, our adventure begins. Each team has a mission to find hidden treasures along the track. They must cross paths in rice fields, muddy ground, wild bushes, jungles, and streams with dirty water.
Cycling Treasure Hunt Team Building
This Treasure Treasure Hunt activity is an exciting team-building activity, too. All participants get warmed up in the ice-breaking session by our experienced game masters. After that, our adventure begins by trying to ride a bicycle. Furthermore, each team received a mission to explore the natural village and beautiful green rice fields and carry a special mission. Meanwhile, they also carry out short garden team-building activities on the local soccer field. Then, the adventure continues with the following assignment and is led directly by our game master.
Lunch Time
We finally arrived at a restaurant at the end of today's exciting activity. All participants enjoyed lunch at a beautiful restaurant with Indonesian dishes. Finally, our adventure ended, and the group returned to the hotel safely.