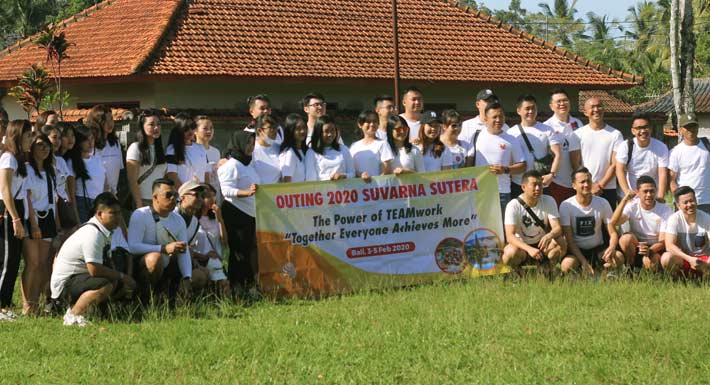 | | |
| --- | --- |
| Event Date | 04 February 2020 |
| Customer | Suvarna Sutera |
| Category | Incentive Travel |
Suvarna Sutera Group Event
Suvarna Sutera Group is one of the well-known property companies in Jakarta, with 41 staff coming to Bali to enjoy an incentive trip. One of their agenda is to enjoy team-building activities on this island. As one of the experienced event planners in Bali, Bali Group Organizer has provided this exciting activity for all staff. We have designed an outdoor activity with exciting and challenging games. Bali Garden Team Building and rafting is a team building package that corporate groups most seek after. For this reason, we are present with experienced staff to provide these services. This activity is also one of our experiences and is a group reference for those who want to hold similar activities in Bali.
Bali Garden Team Building – Suvarna Sutera Group
First, we started this one-day outdoor activity with the garden team building. We picked up the group participants at the hotel and took them to the team-building venue near Ubud. Furthermore, we provide a variety of exciting and fun games in 3 sessions. They do with the whole struggle to build solid teamwork.
Ice Breaking
Participants from the Suvarna Sutera group came from one office and made them know each other. For that, we provide exciting games for 15 minutes to warm and uplift the spirit of their struggle.
Competition Phase
Participants in the Suvarna Sutera group have shown their struggle to build strong teamwork. This can be seen from their fighting spirit to finish every game we provide. Meanwhile, we have provided four exciting games requiring collaboration to achieve the goal.
Olympic Game Phase
After the break, we continued this garden team-building activity with another challenging game. We have provided three types of games and are concluding the team-building activities today.
White Water Rafting Adventure – Suvarna Sutera Group
Now is the time for refreshment after completing exciting games. We have taken them to the rafting start point on the Ayung River. A beautiful river with wild nature and stunning natural scenery along the track. By wearing a safety device, our adventure begins. We explore rafting with levels 2-3 along 8 km for 2 hours with an experienced river guide. We could see their excitement on the river by rowing a rubber boat together. After that, lunch is served in a restaurant with a beautiful river valley view. Likewise, this one-day activity ended after we arrived at the hotel safely.