| | |
| --- | --- |
| Event Date | 01 – 03 November 2023 |
| Customer | Teletrac Navman |
| Category | Incentive Travel |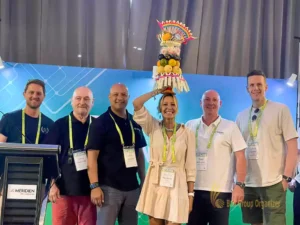 Teletrac Navman Group Event
Teletrac Navman's Memorable Journey: Incentive Travels Fueled by Togetherness
Teletrac Navman, a renowned Australian company, embarked on a transformative journey to Bali from November 1 to 3, 2023, with 72 enthusiastic participants. Their purpose? Incentive Travels – a perfect opportunity to reward their dedicated team and foster a stronger bond among colleagues. Hosted at the exquisite Le Meridien Hotel Jimbaran, this three-day event was meticulously crafted by Bali Group Organizer, ensuring every moment was filled with excitement, learning, and togetherness.
Day 1: Fueling Minds and Building Bonds
The journey kicked off with a full-day meeting that set the tone for the days to come. Engaging discussions and strategic planning filled the air, energizing the team for the challenges ahead. Following the intense brainstorming, participants transitioned seamlessly into indoor team-building activities. Designed to provide refreshments during long-day meetings and enhance team spirit, these activities laid the foundation for the unforgettable experiences awaiting Teletrac Navman.
Day 2: Cultivating Culture and Creativity
Day two dawned with renewed vigour as Teletrac Navman delved into another day of fruitful discussions. The day's highlight, however, was the indoor culture team-building session. Amidst laughter and camaraderie, participants engaged in a unique Balinese offering challenge. Armed with local fresh fruits and young coconut leaves, teams crafted intricate offerings, showcasing their creativity and cultural appreciation. This immersive experience not only bonded the team but also deepened their understanding of Balinese traditions.
Day 3: The Thrill of VW Safari Adventure
As the sun rose on the final day, anticipation filled the air. Teletrac Navman embarked on a legendary VW Safari trip to White Rock Beach Club, traversing Bali's picturesque landscapes in iconic Volkswagen cars. The journey was not just a physical one; it was a metaphorical adventure symbolizing their collective success. Arriving at the beach club, the team marvelled at the stunning view of the Indian Ocean while relishing a sumptuous lunch. This exhilarating experience left an indelible mark on their hearts, fostering a sense of achievement and unity among the participants.