AON Benfield Group Had Experienced on Beach Team-building and CSR program in Bali
AON Benfield group got the experience on team-building and CSR program during incentive tour in Bali. This company is a world-class insurance company based in the UK that has trusted Bali Group Organizer to organize team building and CSR events during a business visit to Bali. Furthermore, we have provided the best service for beach team building and led them into exciting and memorable games. Thus, all members of the group seemed very enthusiastic and happy to join in the permanence that required teamwork to reach the goal. On the other hand, we have designed all of our team building programs to bring group participants to be involved in teamwork. Meanwhile, beach team building activities for AON Benfield's group were held on July 17, 2018, starting at 3 pm. This event is carried out on the white sand beach in Nusa Dua with calm seawater and beautiful natural scenery.
During the activities of team-building and CSR program, they also held a social activity to help children from orphanages. We have arranged for children from the orphanage to come to the venue to receive assistance from AON Benfield. The program has run smoothly and successfully, as well as all the participants were happy and impressed with the program we designed. So, this is a good reference and a manifestation of the quality of our services with strong support from staff and teams. In fact, you can also see the referrals of other group events that we have handled during 2018 so far here.
DAY – 1: Beach Team-building Activity
Beach team building is an activity to build character for each participant designed with a variety of games and held on the beach. This is an activity for group participants that is fun and exciting. Because in each session we will be challenged by our game master to work together to achieve the goal. The following is the experience of AON Benfield who was one of our customers at the event.
Ice Breaking
We have succeeded in arousing the soul and spirit of all participants with several games. This aims to arouse their enthusiasm and get to know each character.
Competition Phase
In this phase, we have provided amazing game competitions to lead them to fight in each game and collect points. These games require extraordinary morale, build good communication, understand each other and focus on goals. So, this really is an exciting activity.
Olympic Phase
All participants from AON Benfield's group were very enthusiastic and enthusiastic about joining this team building. This time, we give 2 games that are very exciting using seawater. Each team struggles to win the game in this phase. Besides that, they did not hesitate to fight for their team despite having to get drenched.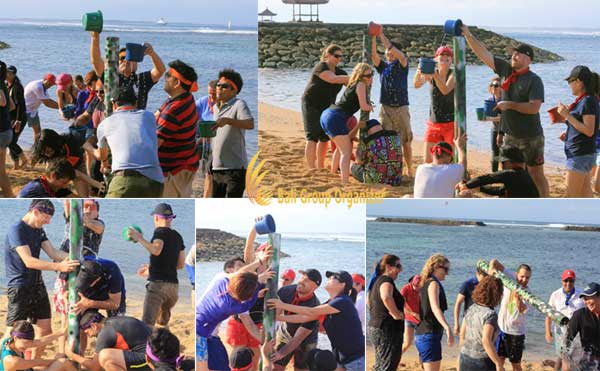 DAY – 2 : CSR and Dinner
On the 2nd day, we have arranged a dinner event in Jimbaran with an incredible view of the Indian Ocean. Also, the spectacular sunset has added to the atmosphere, which has become romantic. Meanwhile, we have also brought children from orphanages to come to this CSR event. There are around 65 abandoned children who have come and received assistance from AON Benfield. Thank you very much for AON Benfield for supporting these abandoned children and trusting us to organize your event.
Other Group References During 2018
Another Service, team-building and CSR program in Bali
Bali event organizer Services and Products
Student Trip and CSR program