Danareksa Investment Management Experience on Bali VW Safari Treasure Hunt Games
Danareksa Investment Management has appointed Bali Group Organizer to hold VW safari tour experience. This is one of the event planners for team building activities. Furthermore, they came along with 57 participants including the top management to join this event. As an experienced event planner, we provide the best service for them by designing exclusive activities. We have tricked them to enjoy the sensation of travelling using the legendary Volkswagen car to explore beautiful villages, stunning green rice fields and visit famous tourist attractions. However, in each visit, we have given a challenge in the form of treasure hunt games that they must complete before continuing the journey. This activity was held on November 28, 2018, which starts from the hotel and ends at a restaurant in Ubud.
In addition, PT Danareksa Investment Management came to Bali for an incentive trip coupled with a meeting and gala dinner. Bali Village VW Safari Treasure Hunt has delivered them to very fun and exciting activities. This is because they can enjoy the sensation of the 1970s with convoys to villages and see the lives of Balinese directly. So, you can make their experience as a reference to create a group event in Bali. And also, we will feel very happy if we can serve you on this island of the gods. Similarly, you can find many of our experiences dealing with other groups during 2018 on our site here.
VW Safari Treasure Hunt Team Building – PT Danareksa Investment Management
Ice Breaking and Treasure Hunt Games Start
We have gathered on a green field in the Rimba hotel area early in the morning. We warmed up with the ice-breaking game to give enthusiasm to each participant. And furthermore, we divided them into several small teams by giving special missions. So, it's time to leave. Let start VW safari tour experience!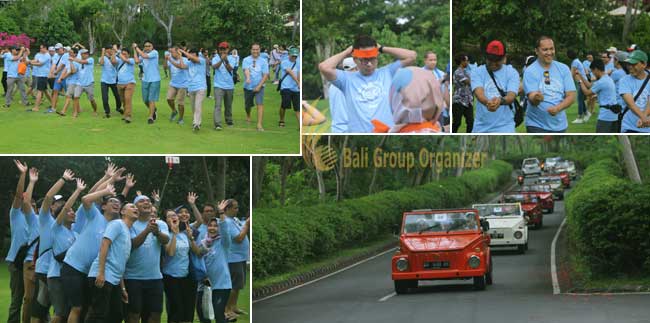 Treasure Hunt Games at Taman Ayun Temple
The first mission is to go to Taman Ayun Temple located in Mengwi sub-district. This temple is a sacred and beautiful temple built on land and surrounded by large fish ponds. Furthermore, they explored the entire temple area with a clue to find one of the treasures. After that, we continue this classic journey to the village of Baha and pass through the green fields with amazing views.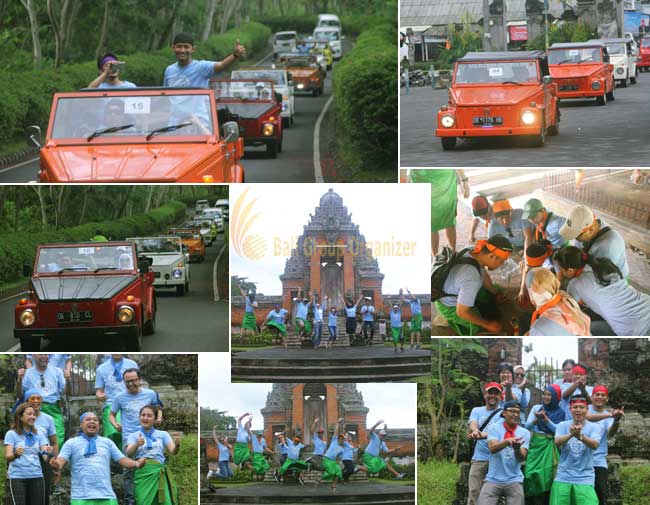 Visit Balinese House
The activity carried out by PT Danareksa Investment Management is arguably unique because we visit one of the Balinese houses. They have received an explanation from our game master about the layout of the Bali house. After that, two games were waiting for them and they had to finish before continuing the journey.
Sangeh Monkey Forest on Last Mission
The final mission is to rescue facilitators from the monkey siege at Sangeh Monkey Forest. After that, several amazing race games were conducted to collect points before ending the Village VW Safari Treasure Hunt. Next, lunch is served at a restaurant in Ubud and takes them back to the hotel.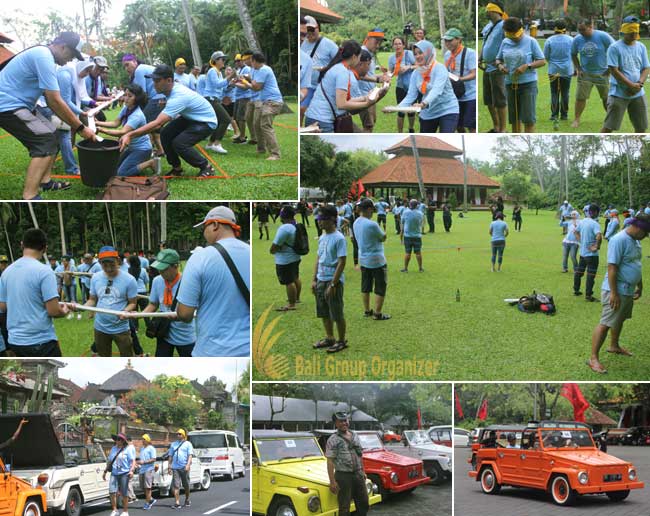 Other Group References During 2018
Another Services
Bali event organizer Services and VW safari tour experience
Student Trip and CSR program