| | |
| --- | --- |
| Event Date | 27 March – 2 April 2015 |
| Customer | Fireeye |
| Category | Incentive Travel |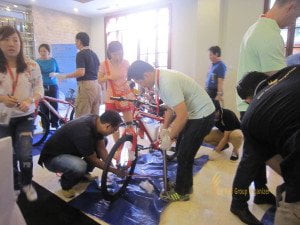 Group Event History of FireEye Group
FireEye Group, a Singapore-based multinational company, participated in the Bali CSR activity with 65 employees. They went to the Bali Group Organizer to plan this event. Furthermore, this Corporate Social Responsibility program is aimed at children from a Bali orphanage. We have provided 16 bicycles for FireEye Group to rebuild before they can use them on the road. This action took place at the Grand Hyatt Bali in Nusa Dua.
FireEye Group Donates Bicycles to Gayatri Widya Mandala Foundation – Bali Orphanage
We brought 32 children from the Gayatri Widya Mandala Foundation, an orphanage in Tabanan Regency, to Nusa Dua. Children from a variety of family origins. They are happy to get the opportunity to visit Nusa Dua. At the same time, they were surprised to receive numerous bicycles since they waited for a long time. It was a fantastic opportunity to meet the FireEye Group, who provided them with bikes. They can use their bicycles to get to school.
Mrs. Ayu, the orphanage's founder, has registered the institution as a legitimate orphanage since 2014. She had to fight for this legal standing, but she now has it. We also thank Mrs. Ayu, who has dedicated her life to caring for the children and hopes they will have a better life.