Soundrenaline 2018 Claimed The Biggest Music Festival in Asia
BALI NEWS: Bali is repeatedly hosting Soundrenaline Event in this year at Garuda Wisnu Kencana (GWK) on September 8 – 9. This annual music festival will give something different. It is because the last few years event only featuring music shows. However, Soundrenaline 2018 will certainly show with a blend of music concerts and art creators.
In addition, Soundrenaline 2018 makes changes the logo used during the last 15 years. Now, it will come with the new theme 'The Soul of Expression', that make Soundrenaline 2018 will be more colorful. "We had the opportunity to collaborate with MMK Production as the Soundrenaline organizer. We want to show a dynamic and progressive side through the new logo this year. This logo represents a fresher Soundrenaline concept by presenting the Creator Area and Glamping Area," Chocky said at level 7 representation during the interview. specifically in the Senopati area, South Jakarta on Wednesday (04/25/2018).
Read Also: Soundrenaline 2019 Soon on GWK
GWk – Garuda Wisnu Kencana Culture Park as a Festival Venue
The organizers wish that the visitors of Soundrenaline 2018 event could get more benefits not even to enjoy their music concerts. Some events outside of music concerts will also be presented in the GWK area. "Through this theme, we want to reintroduce Soundrenaline as an expression space where all forms of expression are. We want visitors to be able to celebrate freedom of expression and creation. And also, it can inspire each other with creators for an unforgettable festival experience," Ronald Subekti (a MMK Production representative) has said.
Soundrealine 2018 will More Colorful
Soundrenaline 2018 itself will be proclaimed as the biggest music festival in Asia. In addition to bands and singers from Indonesia, the organizers will present musicians from several countries in Southeast Asia. "For the first time, Soundrenaline 2018 will also involve music curators. Besides that, there will also be popular names and not ordinary names. Hopefully, Soundrenaline 2018 is now a destination for foreign tourists. By involving musicians in Southeast Asia, we will announce it in the near future, " Adhib Hidayat (Soundrenaline 2018 Board of Music Curators) has said.
READ ALSO: Denpasar Festival 2015
Meanwhile for some homeland musicians who have ensured to take parts such as Sheila On 7, NAIF, Padi Reborn, Pee Wee Gaskins, THE SIGIT, Barasuara, Dipha Barus, Burgerkill, Navicul, Jason Ranti, Fourtwnty, Scared of Bums, Navicula, and others. Other event fillers will be announced in stages, including line-ups from abroad.
Like the previous year, there will also be glamping areas or campers for spectators and visitors. Later, visitors will enjoy 24 hours the Soundrenaline festival without having to leave the GWK arena. "Visitors can camp and get new experiences. It's almost a complete festival, there are music concerts, exhibitions, workshops and more," Choky said
READ ALSO: Bali Success Hosted BBTF 2018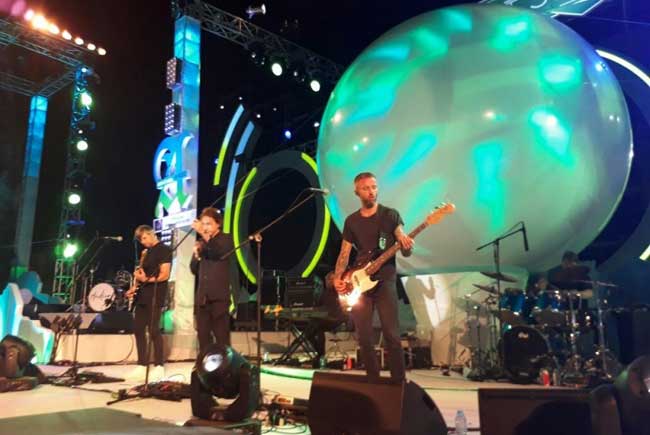 Another Services
Bali event organizer Services and Products
Student Trip and CSR program