Bali Group References 2011 Handled by Bali Group Organizer
Bali Group References 2011 is a list of group experiences handled by the Bali Group Organizer in 2011. As one of the reliable event planners, we provide our best services for all our clients with a 100% satisfaction level. We started documenting our group experiences from this year with a comprehensive range of group agendas for your reference before using our services. It is coming through the group experiences with us, that you can figure out our quality services to transform every group event accurately. It is because our teams are professional and experts in all events to make it successful. From Bali Group References 2011, you can faith your restore again our quality services to make your next event successfully in Bali.
References 2011
We start our group experience 2011 on 15 January 2011. Afterwards, we continue with other group experiences throughout the year.
ACSI Singapore is one of the student tours handed by our company. They have joined our popular Bali Student Tours to bring their student into exciting experiences to learn about Bali. They took a program of Bali Student Tours within 6 nights and 7 days. This package program is exclusively designed by our Creator Teams to accommodate and fit the student as well as school requirements. Furthermore…
The Gancit Group Trips – Bali Tours and Adventures
This Group is a local corporate company based in Jakarta together with their staff to go to Bali for Incentive Leisure Program by joining several Bali Tours and Adventure Activities. The Gancit Group arrives at Denpasar Airport at 00.45 midnight and it had been welcomed by our Director of MICE and Event. Furthermore…
PT. Voith Paper Rolls Indonesia conducted the staff gathering trips to Bali on April 2011 and appointed Bali Group Organizer to organize team building activities. We combine team building with a sailing cruise to Lembongan Island. It was very exciting and memorable for the group participants. They enjoy both activities especially beach team building to build strong teamwork. It is one of our Group References in 2011. Furthermore…
Global Village Trip is a program from Habitat for Humanity Indonesia, a Non-Government Organization (NGO) for a surgical house. They had conducted the CSR Program in the northern part of Bali Island. And also, they had done several Bali Adventure Activities to complete their rest day on this island of God. We have designed the exclusive program for their visit to Bali and successful build a house in the north part of Bali, exactly at Gitgit Village in Singaraja Regency. Furthermore…
PT. Linde Indonesia is a leading gas supplier for industry/manufacturers in Indonesia since 1971. PT. Linde Indonesia is a part of The Linde Group produces and distributes gas for industry and medical. And also, provide services related to gas installation equipment, pipe, site plan, and associated engineering services. Furthermore…
Philthy Group from Australia consisting of 20 participants has just completed their fun day on the white sandy beach of Tanjung Benoa. And also, they have completed several water activities including Parasailing, Banana Boat, Jet Ski, Water Ski, Fly Fish, and Rolling doughnuts. The group participants are all boys and are led by Mr Luke Schmidt. Furthermore…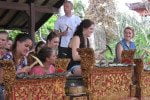 The Secondary Campus of Alice Smith School at Equine Park is located on expansive grounds and caters for approximately 700 students in Years 7 to 13 (between the ages of 11 and 18). There are five form classes in each year level from Year 7 to 11 with between 100 to 120 students in a year group. Furthermore…
PT. National Starch is a well-established company to sell the ingredients for food and paper industries. They came with 72 participants for having the fun of team building in the theme of the Bali Fun Rally on 30 November 2011. We design the games from Sanur Beach Hotel with 6 big fans. And then, we go for a rally to explore the nature of Bali. And also, we have provided many wonderful memories and evoked high motivation for each participant to improve their teamwork. Furthermore…
S.K Executive Golf Tour is our partner based in Bangkok – Thailand leading golf tours in South Asia. This is their first group that arrives in Bali on 03 December 2011 with 16 participants for holidays. We have designed the tour itinerary for them to look around Bali Island and an overland tour to Yogyakarta as well. We have built big trust in our partner and it is one of our Bali group references in 2011. Furthermore…
Ethos Company is a well-established consulting company based in Kuala Lumpur, Malaysia. They came with 45 staff to Bali for vacation recently. Bali Group Organizer previously under the name Bali Star Island has been appointed to arrange their Bali Amazing trips program. Among 45 people, they consist of 35 adults, 7 children and 3 infants who have a wonderful experience during their trip to the island of god. Furthermore…
Other Group References : 2011, 2012, 2013, 2014, 2015, 2016, 2017, 2018 and THIS YEAR
Another Services
Main Services and Products
Student Trip and CSR program instead of Bali group reference 2016