Bali Cycling Treasure Hunt is a fantastic team building programs perfectly designed for group outdoor training with great challenges and enjoy the fun cycling adventure to explore the traditional village and beautiful landscape. This game is very exciting to encourage each group to perform good teamwork, communication skill, adaption with new environments and focus on goals. The games are perfectly designed by our teams who creatively create the attractive games that force every individual and group to get a win in every session. It will give double impacts from this program where the group will have good learning on training through the games as well as enjoy cycling adventure to explore Balinese rural and discover the daily social life of villagers.
Fun Bali Cycling with Challenging Treasure Hunt Games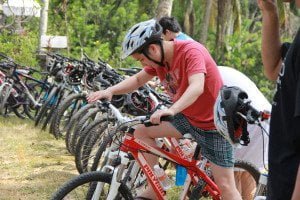 It is an ideal game for small or large groups that will encourage them into a fun atmosphere with safety and enjoyable. We do flexibility to arrange Cycling Treasure Hunt Game that can be customized with your own theme, target or ideas. You have the wide opportunities to execute this game at the appropriate area in Bali and just feel free to contact our team. This game is ideally conducted for half-day those all will give them impressive experiences. The games will be lead by our professional game master and experience facilitators, scorer and supporter teams.
Information about Bali Cycling Treasure Hunt Team Building
Total of participant : 30 people – minimum
Total of games : 6 – 7 games
Duration of games : 2 – 2,5 hours
Venue : On request
Time : Morning/Afternoon
Systematical of Team Building
Phase – 1 : GROUPING

Group Assembling
Ice Breaking with 2 – 3 games
Grouping and leader appointing including yell – yell

Phase – 2 : TREASURE HUNT GAMES

Post 1 ( Exclusive games)
Post 2 ( Exclusive games)
On Post 3 ( Exclusive games)
COFFEE BREAK
Post 4 ( Exclusive games)
Post 5 ( Exclusive games)
On Post 6 ( Exclusive games)

The Phase – 3 : CLOSING GAMES
Phase – 4 : EVALUATION

Evaluation session and announce the winner

Lunch
Transfer back to your hotel
PHOTO GALLERY
Our Customers
Another Services
Bali event organizer Services and Products
Student Trip and CSR program, instead of Bali cycling