Petitenget Festival 2019 Turns the Awful Mindset into a Travel Destination
Petitenget Festival 2019 is an art and cultural festival and coming soon in Seminyak Bali. It is the second time event on September 13 until 15, 2019. Previously, the festival has involved 50 Banjars (Group of the local community). It has successfully presented a number of local arts and cultural activities. They have performed the arts with sacred values. Even, it has won a prestigious award in the form of MURI. Furthermore, the festival will run regularly every year in September. The committee provided a number of interesting activities. You can find Bali Food Festival, various competitions until performances of local Balinese band groups. In fact, there are several other activities including Dj, fishing tournaments, laughing yoga, and others.
This year's Petitenget Festival Changes Mindset.
The Petitenget area was originally considered a haunted place. In fact, local people have believed that the area is very sacred. Moreover, they believe that Buto Ijo (green magical creatures) has controlled this area. Over time, the Badung Regency Government continues to improve. The area that was originally surrounded by forests until the cemetery. And now, the government has converted into a beautiful place successfully. Today, we can find easily many luxury hotels and a clean beach. In 2018, the committee has held the Petitenget Festival for the first time. It has proposed to attract many tourists to come to Petitenget. They have held the Petitenget Arts and Bali Spirit Festival 2018 firstly. This festival also became the revival of the Wayang Wong Dance which has been silent for 72 years. Local artists have performed this dance at the Petitenget temple in Kerobokan, Kuta.
Read Also: Sanur Village Festival and Nusa Dua Fiesta 2019
The Petitenget area is a favorite for tourists
The Petitenget area continues to improve and makes this area one of the best tourist spots in Bali. We easily find hangout places, restaurants to a beautiful boutique shop here. And even, Petitenget beach offers an amazing view with a spectacular sunset. On the other hand, we can find famous restaurants and bars such as Potato Head, La Luciola, La Plancha to Kudeta. Meanwhile, world-class hotels are also very easy to find in this region.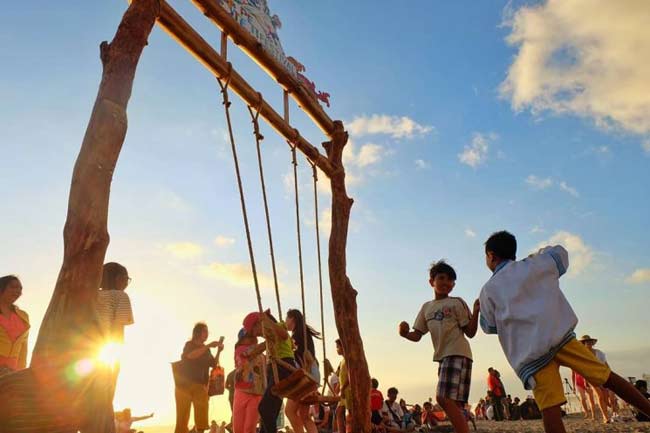 See more Bali News Update.
Another Services
Bali event organizer Services and Products
Student Trip and CSR program